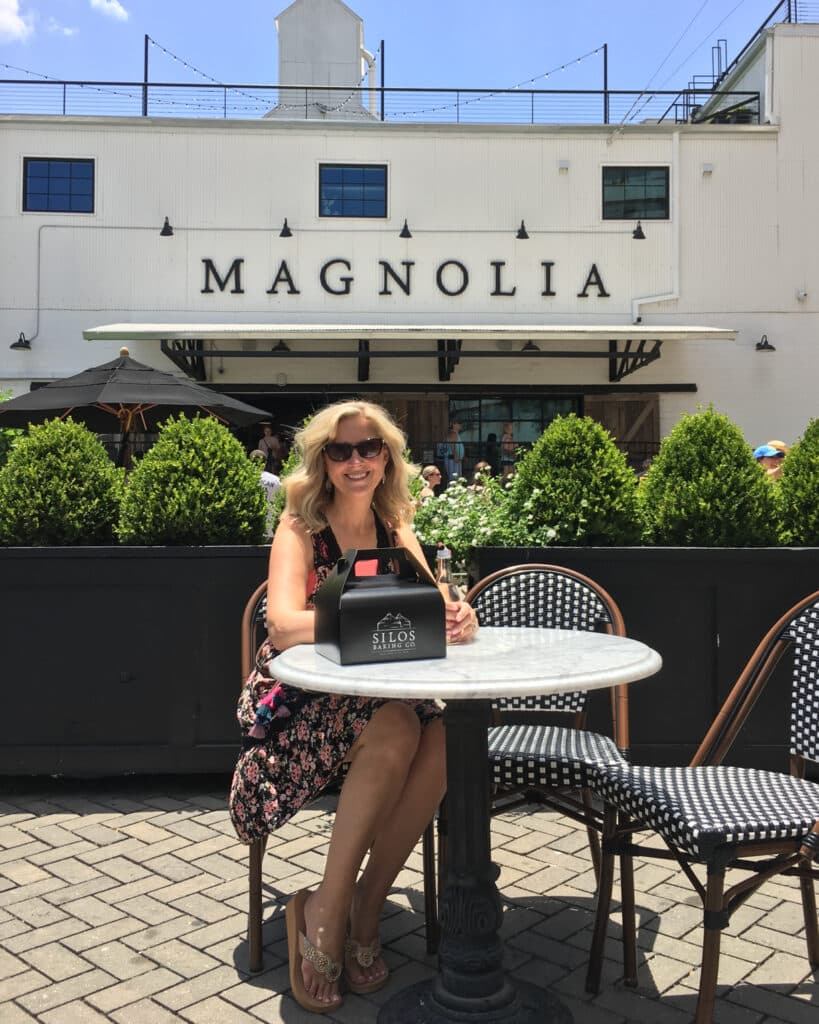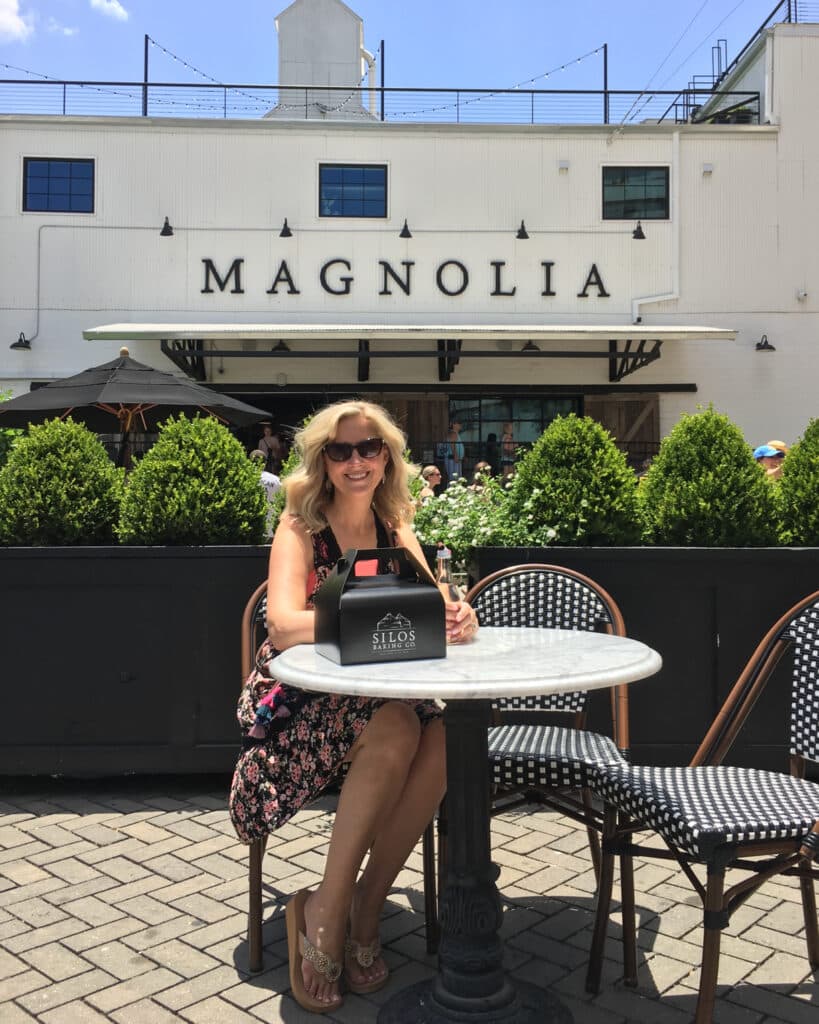 Hey ya'll, I'm back in Michigan from my trip to Waco, Texas visiting Chip & Joanna Gaines' Magnolia Table and Magnolia Market at the Silos. My husband and kids surprised me with this trip for my 40th birthday, and I'll always remember this celebration as one of my best birthdays yet! I enjoyed an amazing breakfast at the Magnolia Table, shopped the Magnolia Market, had lunch at the Silos' food trucks, toured the Seed and Supply Co. gardens, and made a birthday wish over one of Joanna Gaines' famous cupcakes from the Silos Baking Co. It was a memorable way to ring in my 40's and the perfect time for me to launch this new design Blog I'd been working on! I am so excited to tell you more about my trip, and share some helpful insight, tips, and sneak peeks of Magnolia!…
Magnolia Table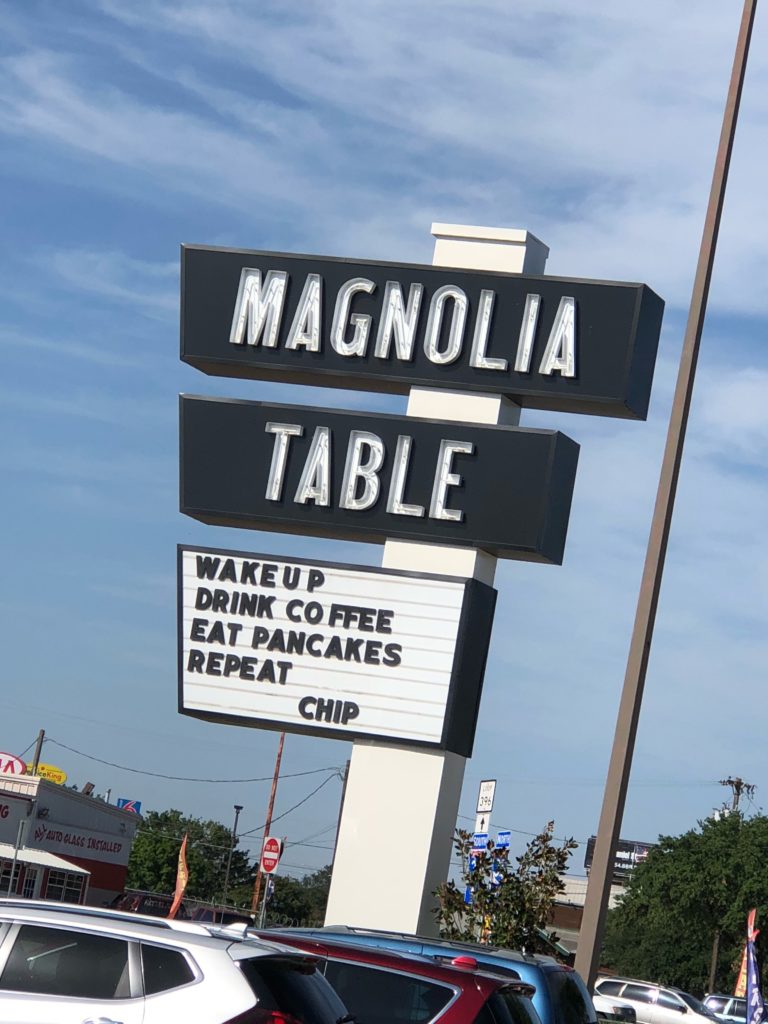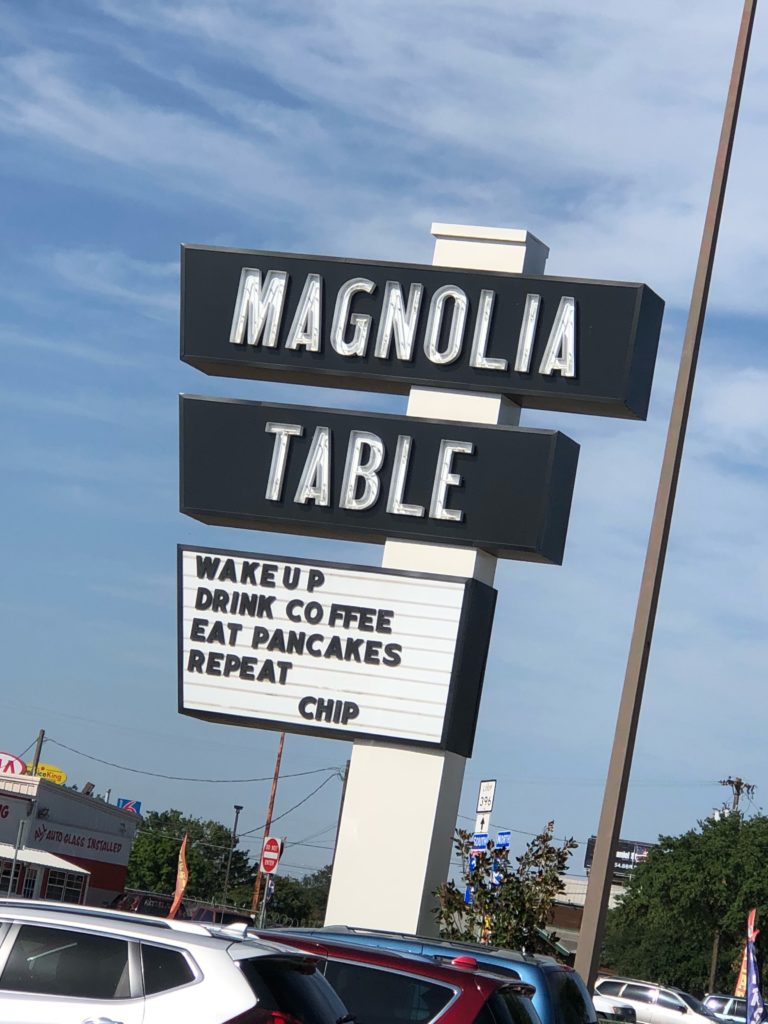 I started out at the Magnolia Table, Chip and Joanna's famous Diner, and it was everything I expected it to be and more! Every. little. detail was thought out from the covered, outdoor seating area where guests can comfortably wait for their tables, to the adorable Take Away market for shopping or light snacks, to the outdoor bistro for enjoying an iced coffee while you wait…and that was all before we even went inside! There's so much I want to share about the Magnolia Table and their amazing food (yes the biscuits are that good!)…and because the diner is in a separate location from the Silos, I think it deserves a post all in itself, so I'll be doing another post just on the Magnolia Table, soon!..so watch for that! Until then, all I can say is, if you are anywhere near Waco, TX… take the time, wait the wait, and go! The Magnolia Table is located at 2132 S. Valley Mills Dr. | Waco TX and is open Monday thru Saturday from 6:00 am to 3:00 pm.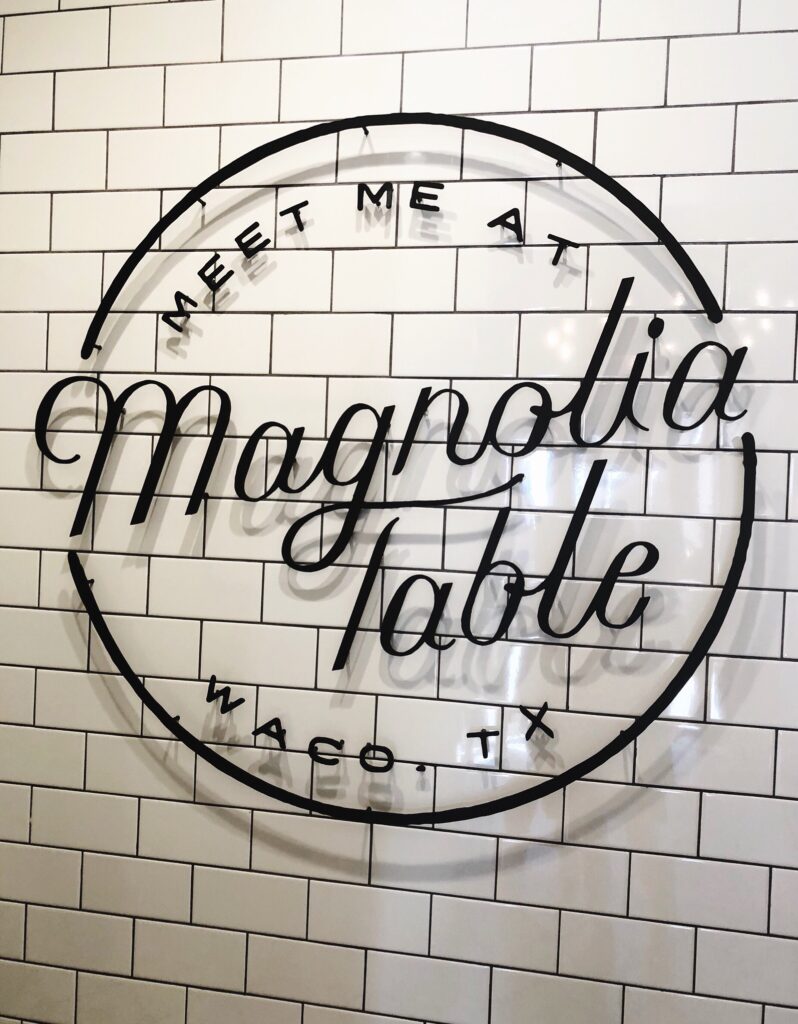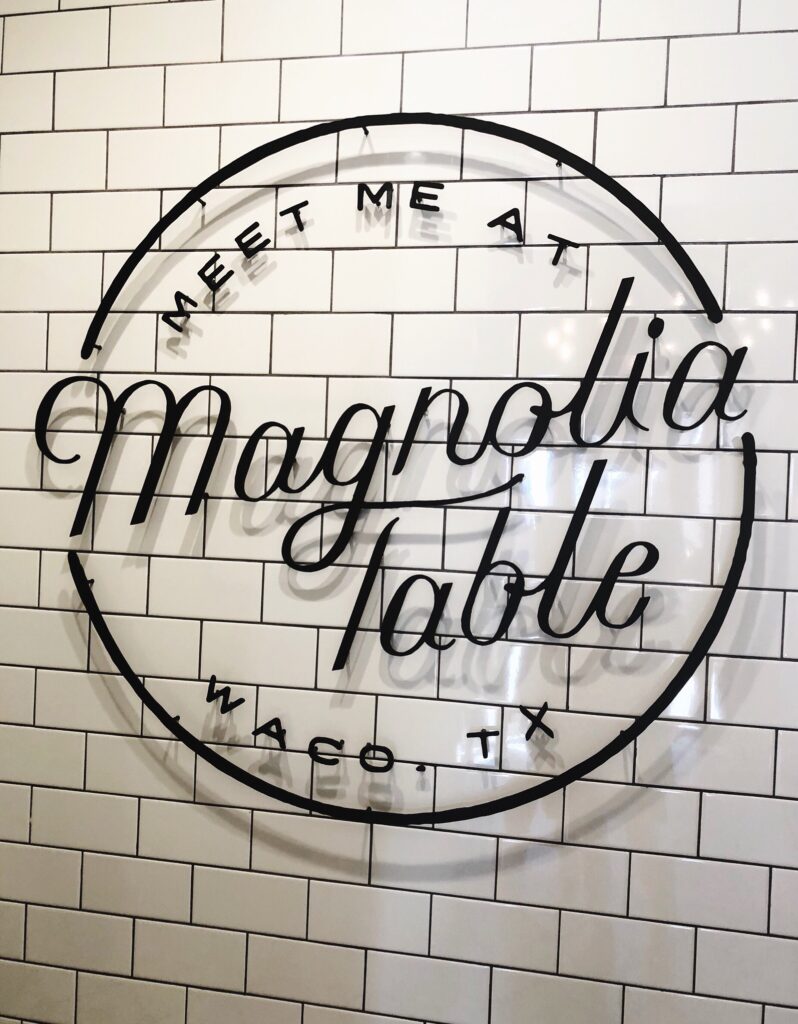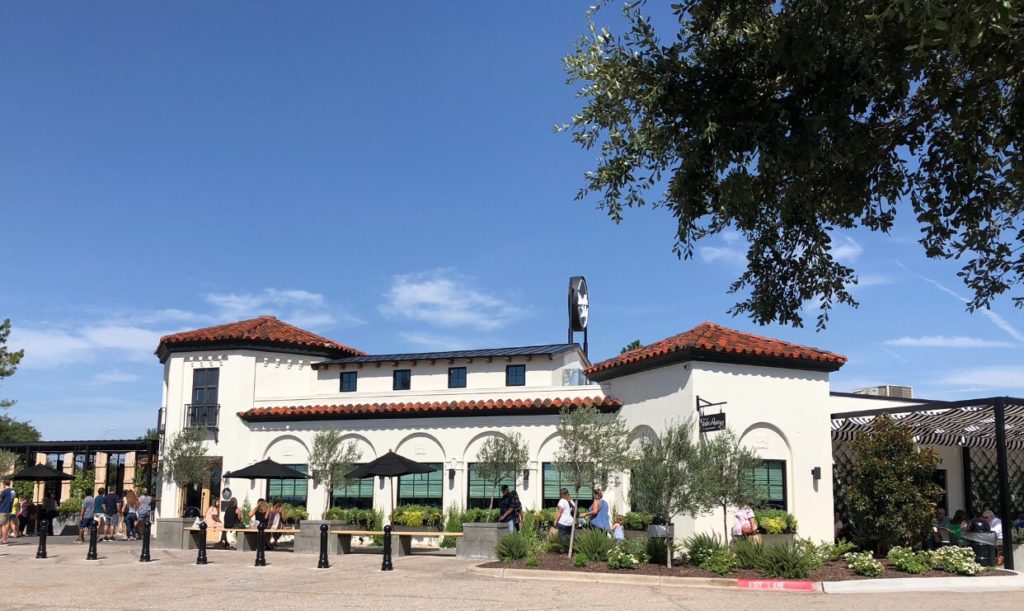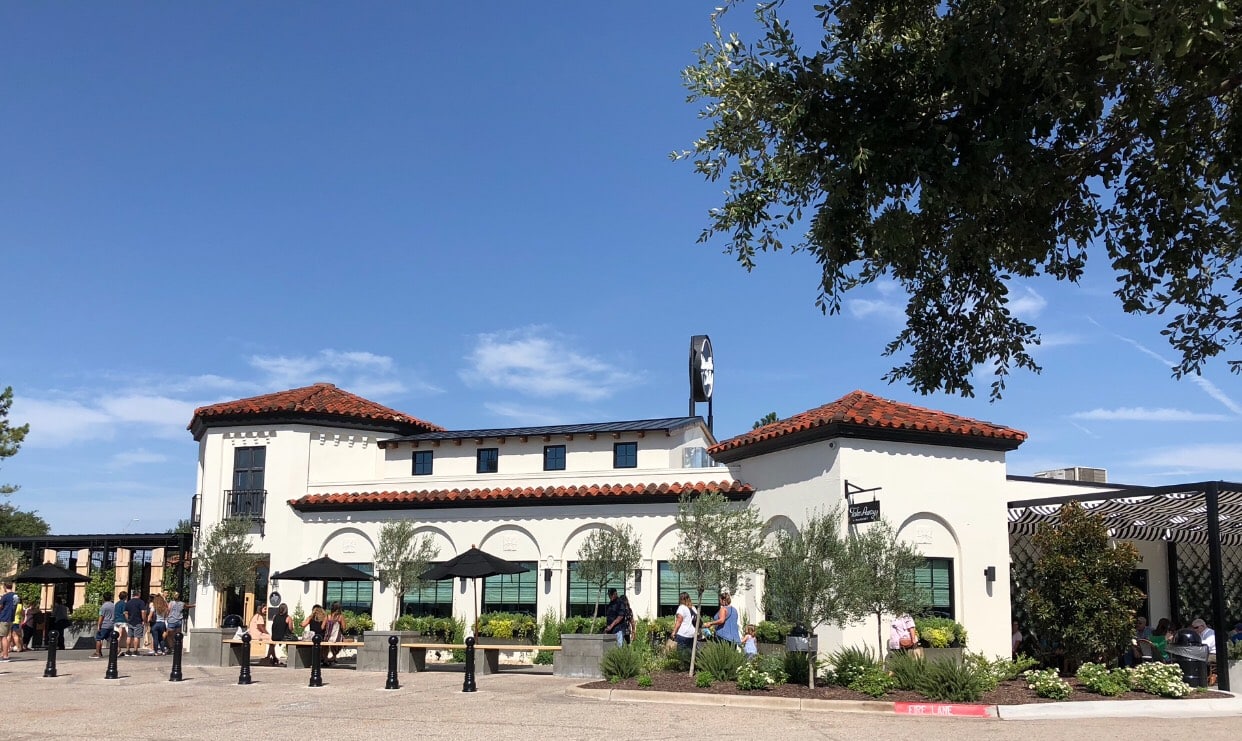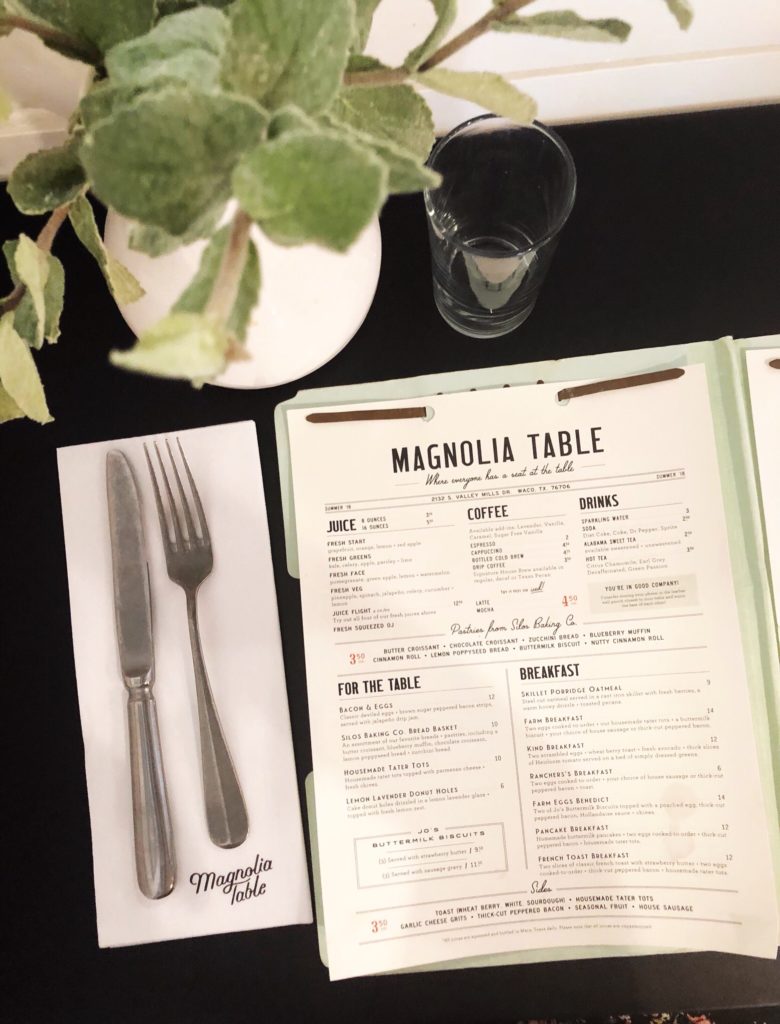 Magnolia Market at the Silos
When I first arrived near the Magnolia Market at the Silos, located at 601 Webster | Waco, Texas, I could see the Silos far in the distance… you can NOT miss them, and oh the excitement I had… my husband who is a farmer himself and owns silos, granaries and elevators looked at me as if I were nuts… we have these all over the place at home and I barely acknowledge them, but here I acted like I had just seen Elvis while driving up to these larger-than-life silos! Oh but you have to watch the show y'all to get it, right?
We arrived a little before noon on a Friday and Magnolia was busy.. but festive. Everyone I seen there was happy!…the guests, the staff, the birds… it's just a happy, casual, welcoming place to enjoy time! So…let me take you inside!
Silos Baking Co.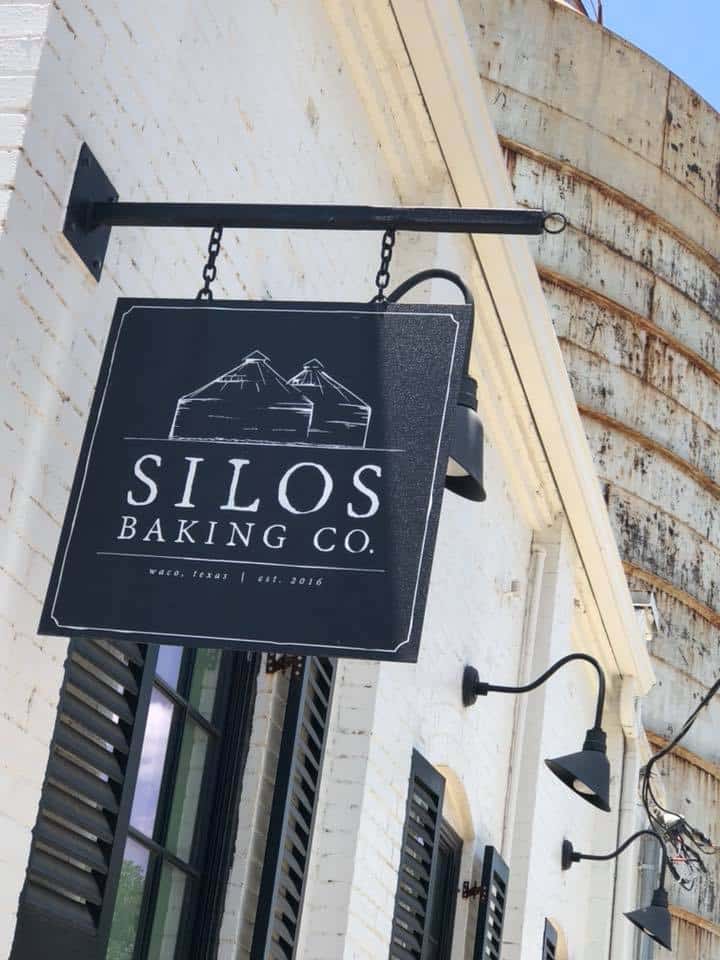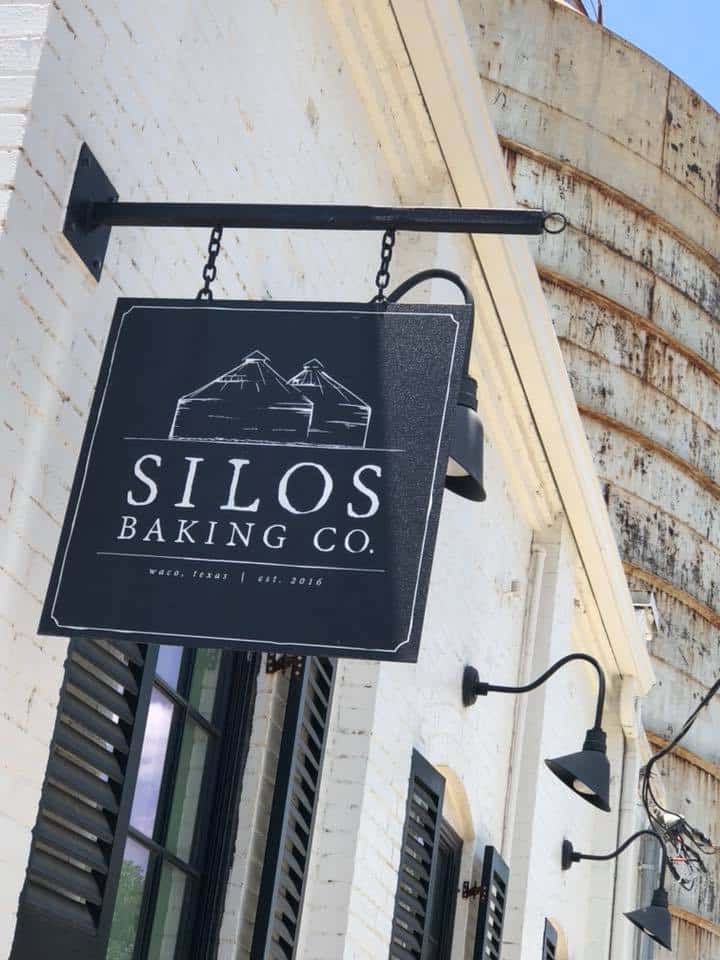 The Silos Baking Co. is Joanna Gaines' famous on-site bakery, located in the white building with black and white awning, at the corner of the Silos property. The bakery is adorable.. designed with white subway tiles, exposed beams, white marble, black accents, and the most adorable chalkboard-esk signage listing the baked items for sale. On busy days (disclaimer: I think every day there is busy) there is a covered area outside next to the bakery, where guests can wait their turn to enter inside. I was given a little menu card and pencil to decide what I wanted to order, so once inside there was hardly any wait. I got the Lemon Lavender, Shiplap (of course!), Strawberries n' Cream, and The Classic cupcakes… and oh my goodness, they were good! Helpful Tip: Get your cupcakes on your way out, at the end of your day, as it is HOT in Texas, and the last thing you want to do is walk around with melting cupcakes, or stop in a bit early to enjoy a pastry at 7:30 am before The Market opens at 9 am (and the bigger crowds start rolling in.) The bakery is open Monday thru Saturday 7:30 am to 6 pm.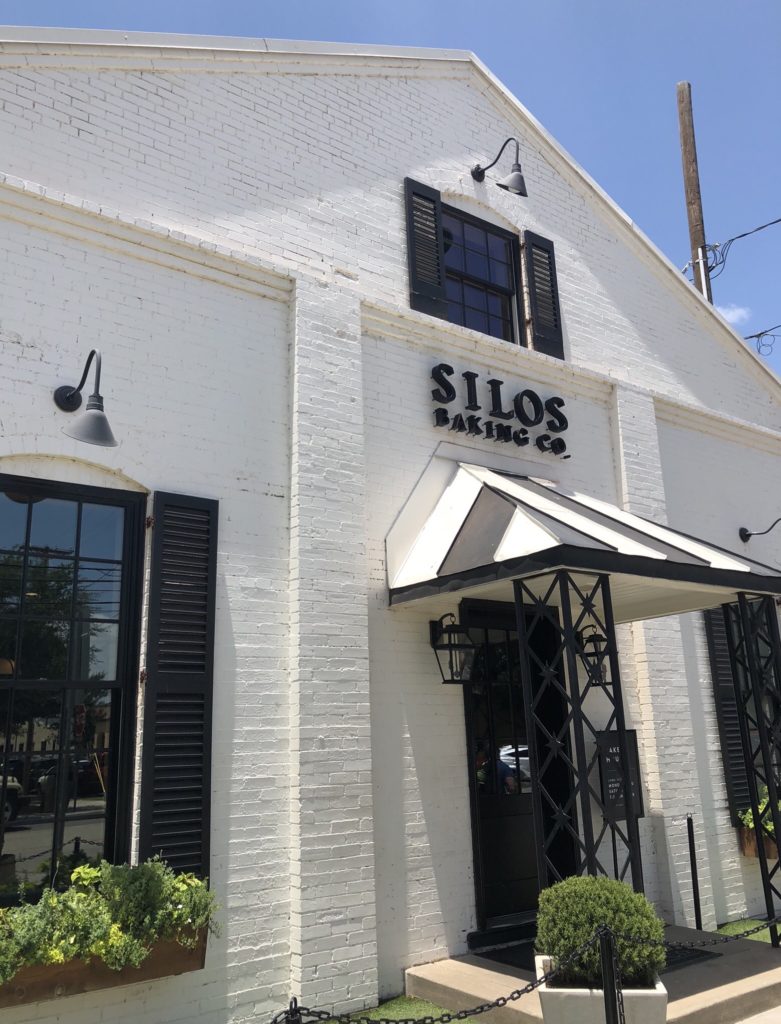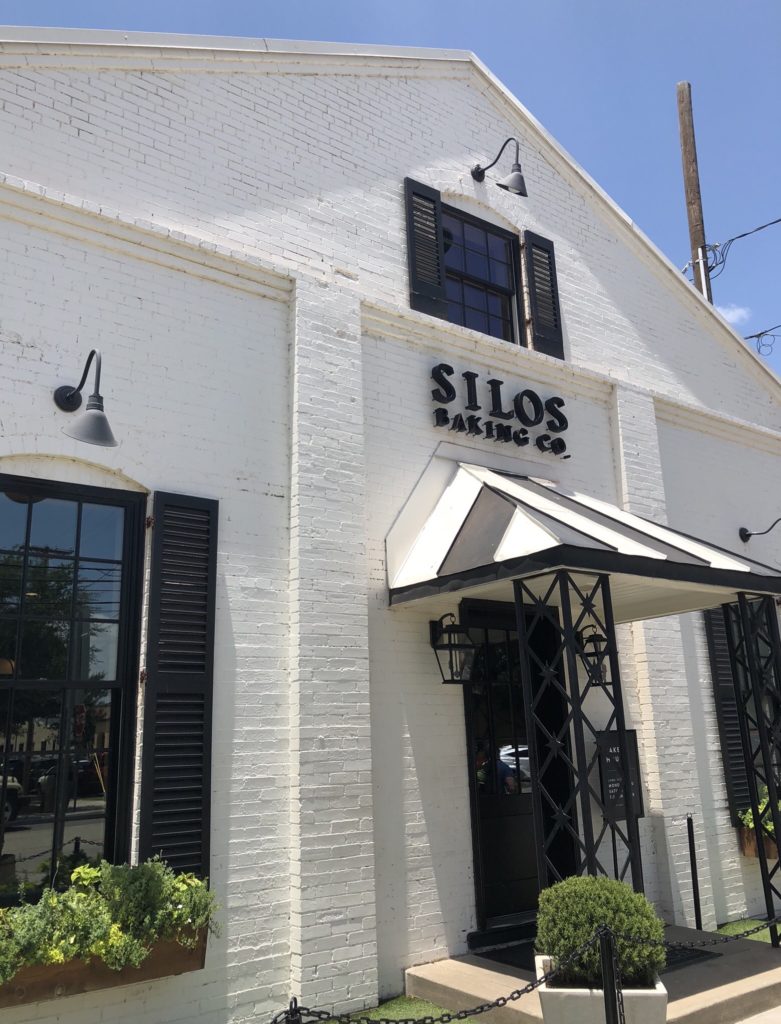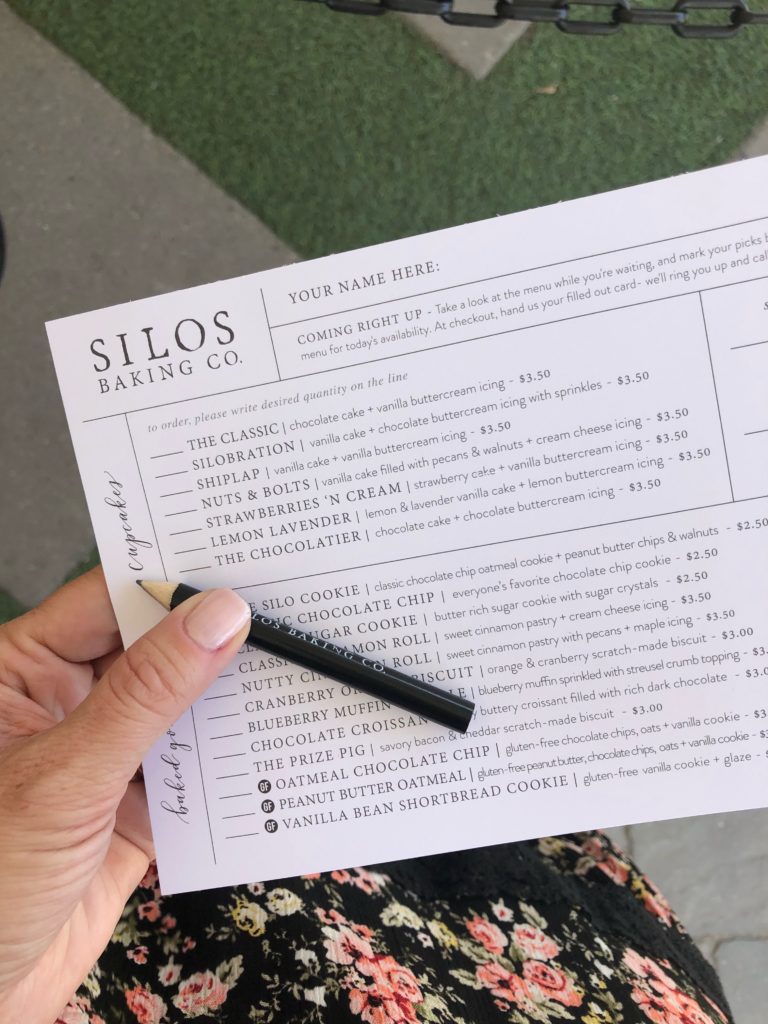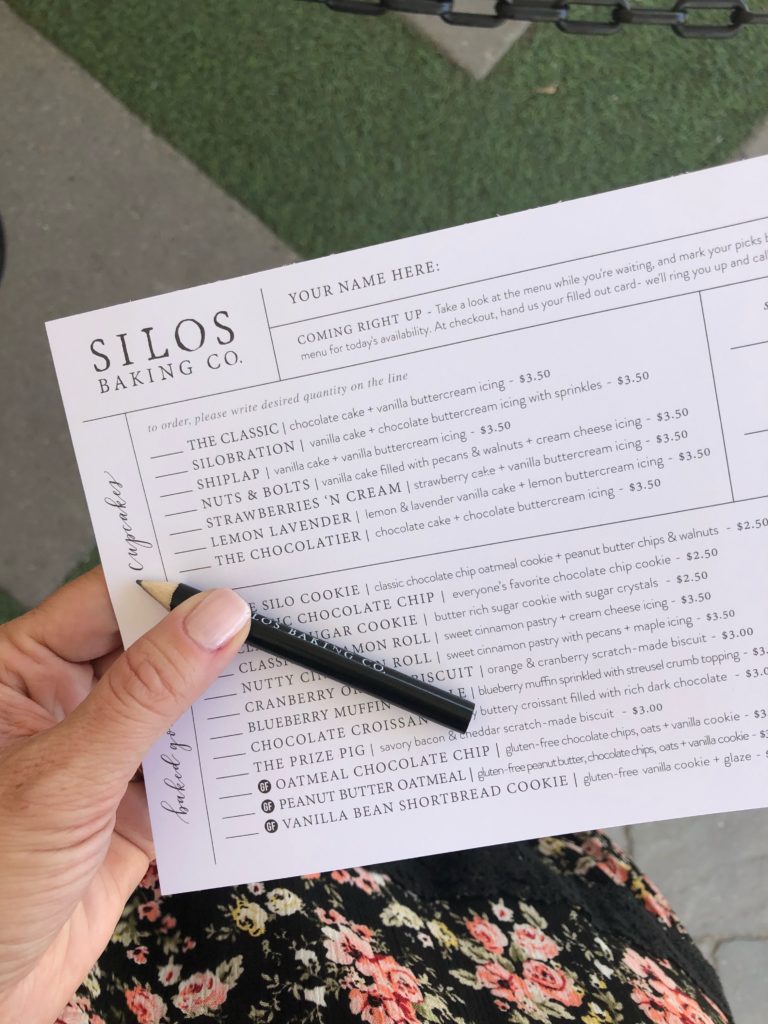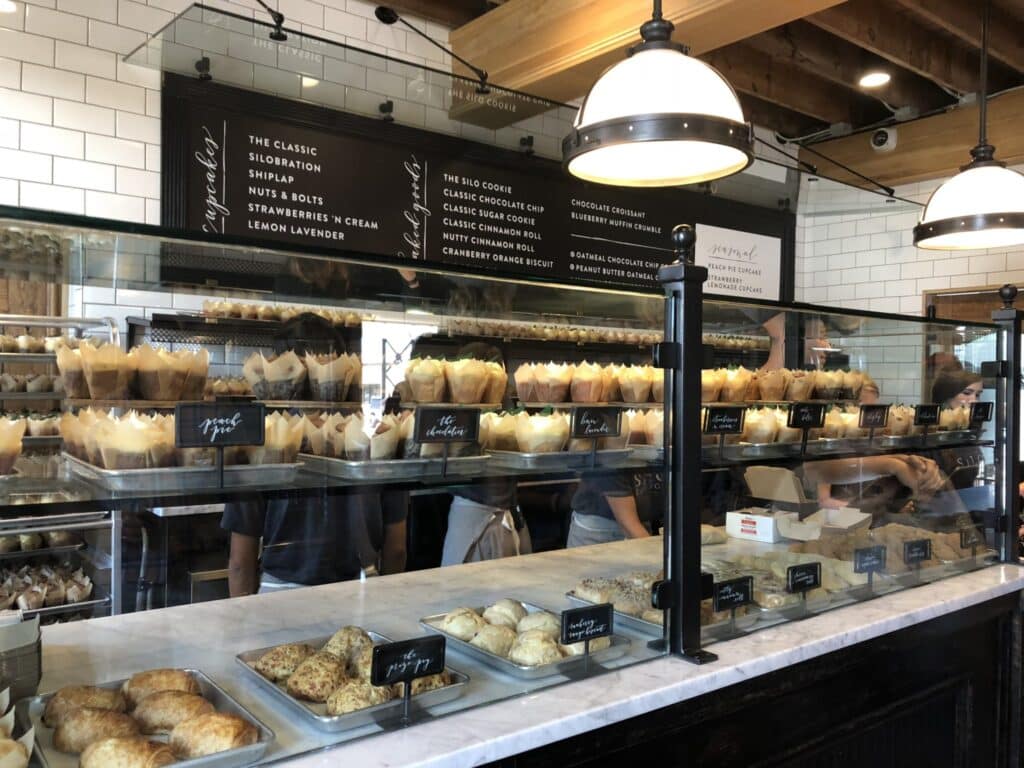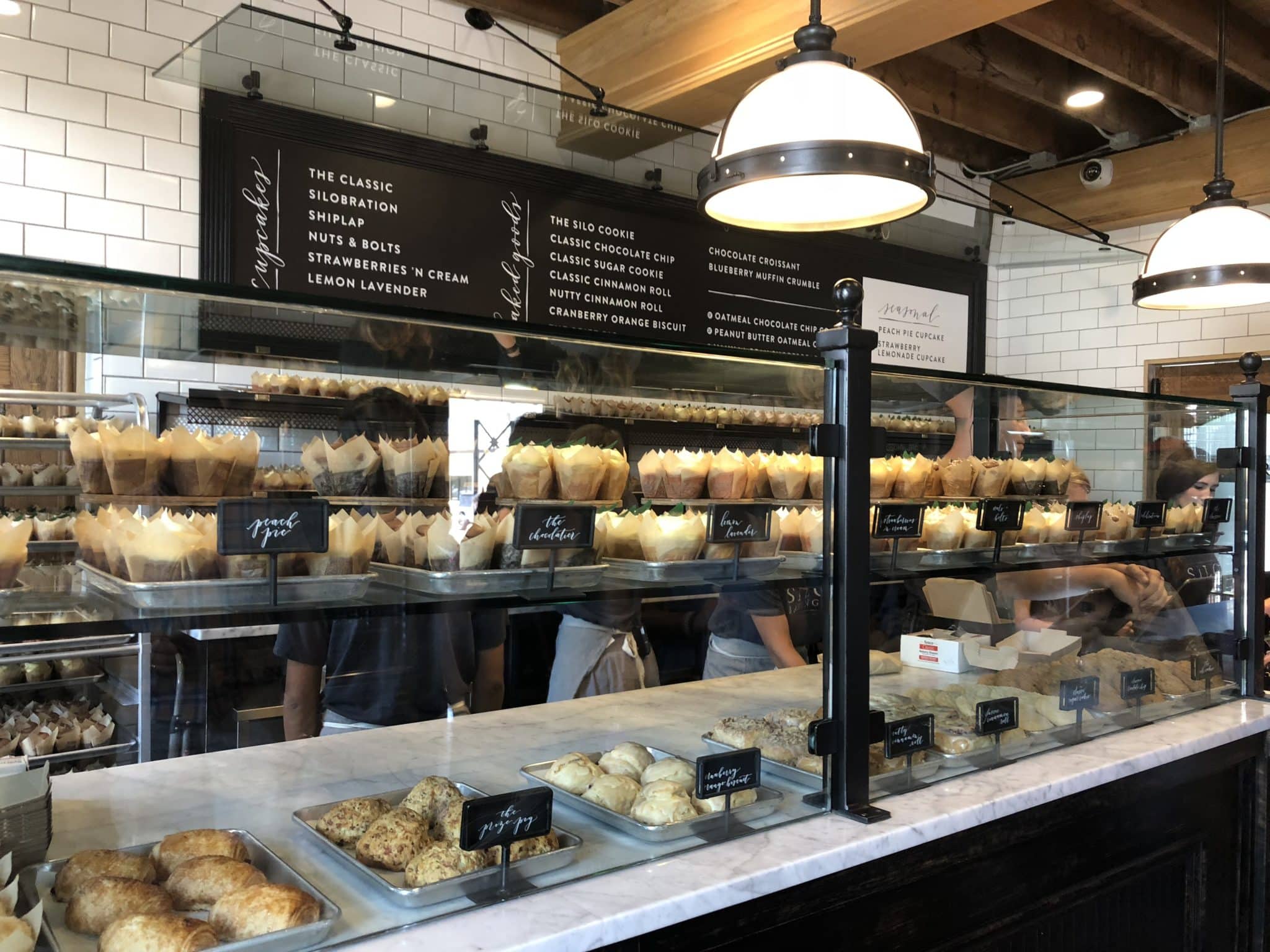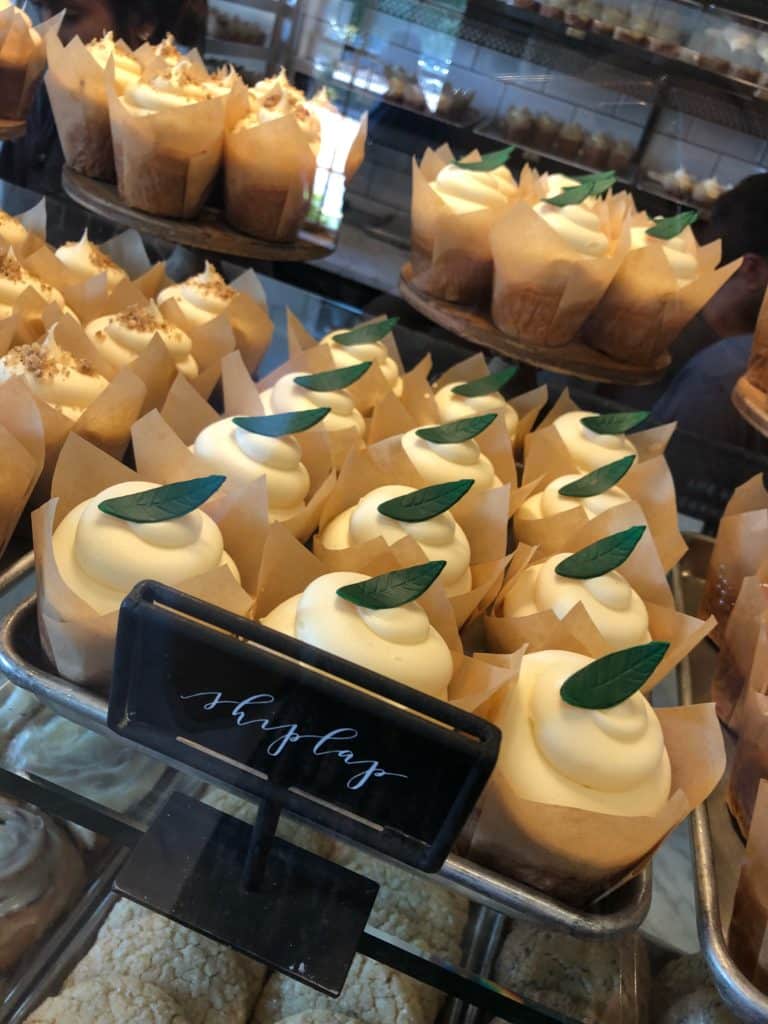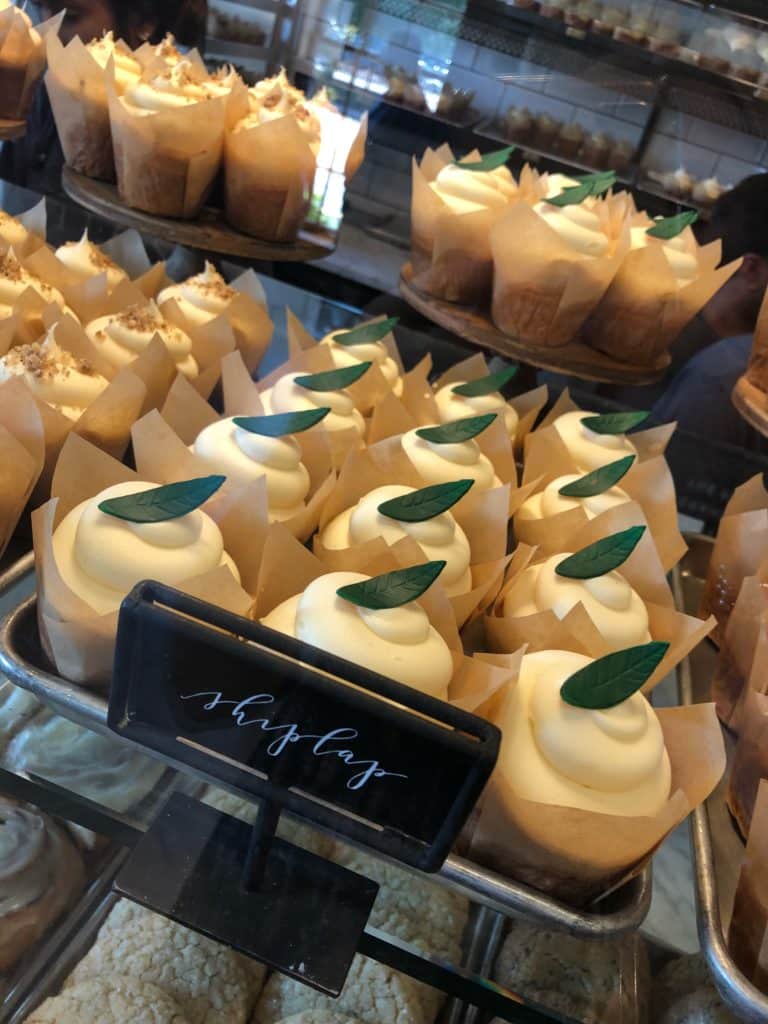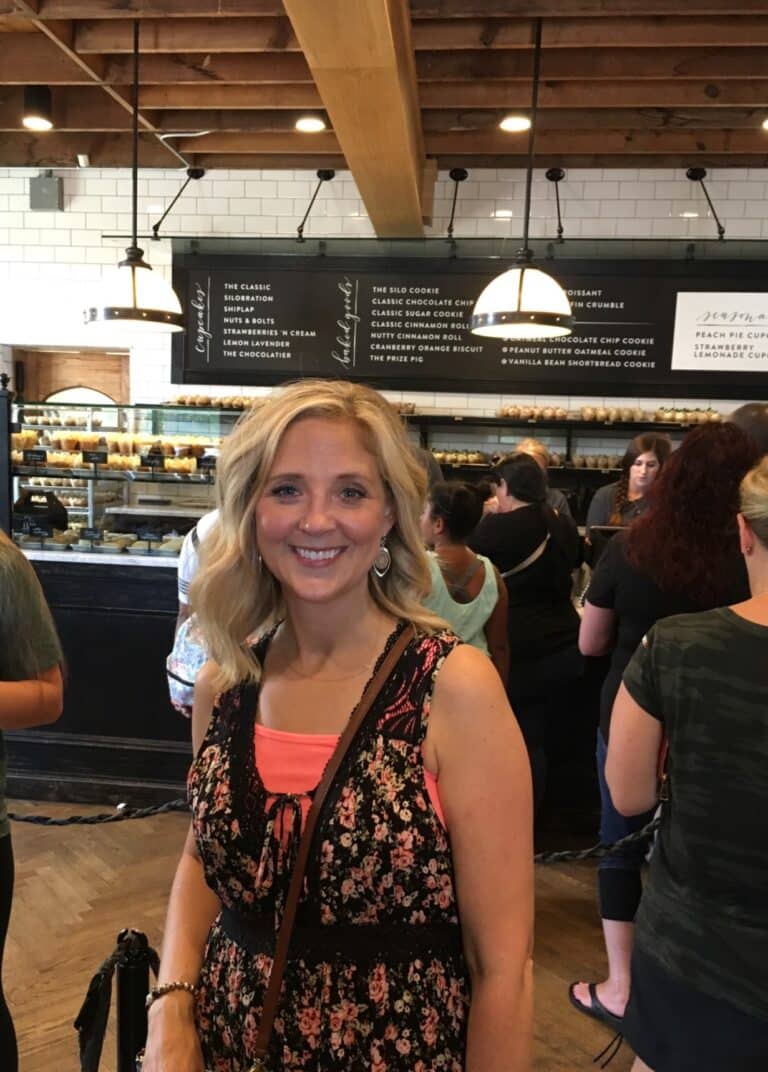 The Silos, The Lawn, & the Food Trucks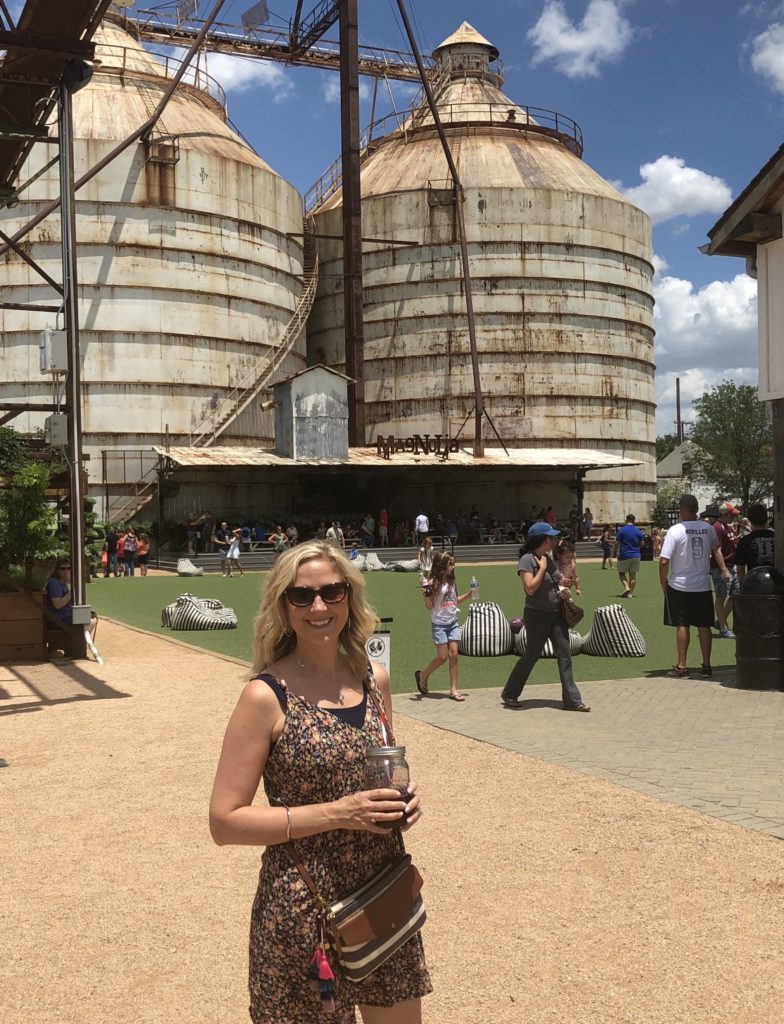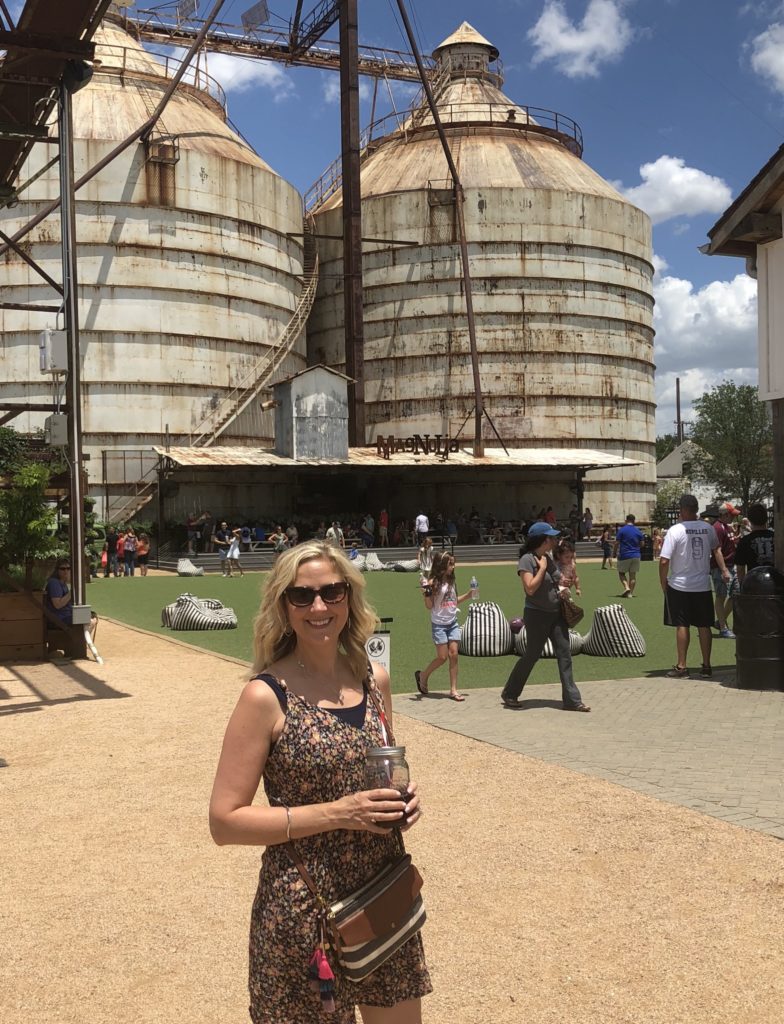 These areas of the Silos feel like a big family reunion with a community of people you don't know, but visit with like you've been friends for years! The Lawn is a huge outdoor space right in the middle of the property for kids and adults alike to play yard games, lounge around, and relax in the sun. The Silos make the most unique backdrop, and if you come from an Ag background like we do, you can really appreciate the authenticity of how the Silos, and the elevator were untouched and left in their very original state, with the rest of the complex designed and developed around it. Lovely! There are picnic tables on the stage area in front of the silos, and also a large covered pavilion with fans and misters (next to the Lawn) to find shade and to cool off a bit while you enjoy an easy lunch from the many food trucks. The Food Trucks add to the festive flare of the Silos, like a small town festival has just rolled into town for guests to enjoy pizza, hot dogs, mac n cheese, Alabama sweet tea, and popcorn (and so much more!… what I like to call, happy food!) There's even a Silos Baking Co. food truck with some of the bakery's signature items, so if you don't want to wait in the bakery's line, that is another nice option. We really enjoyed this festive space, and had some good old-fashioned fun!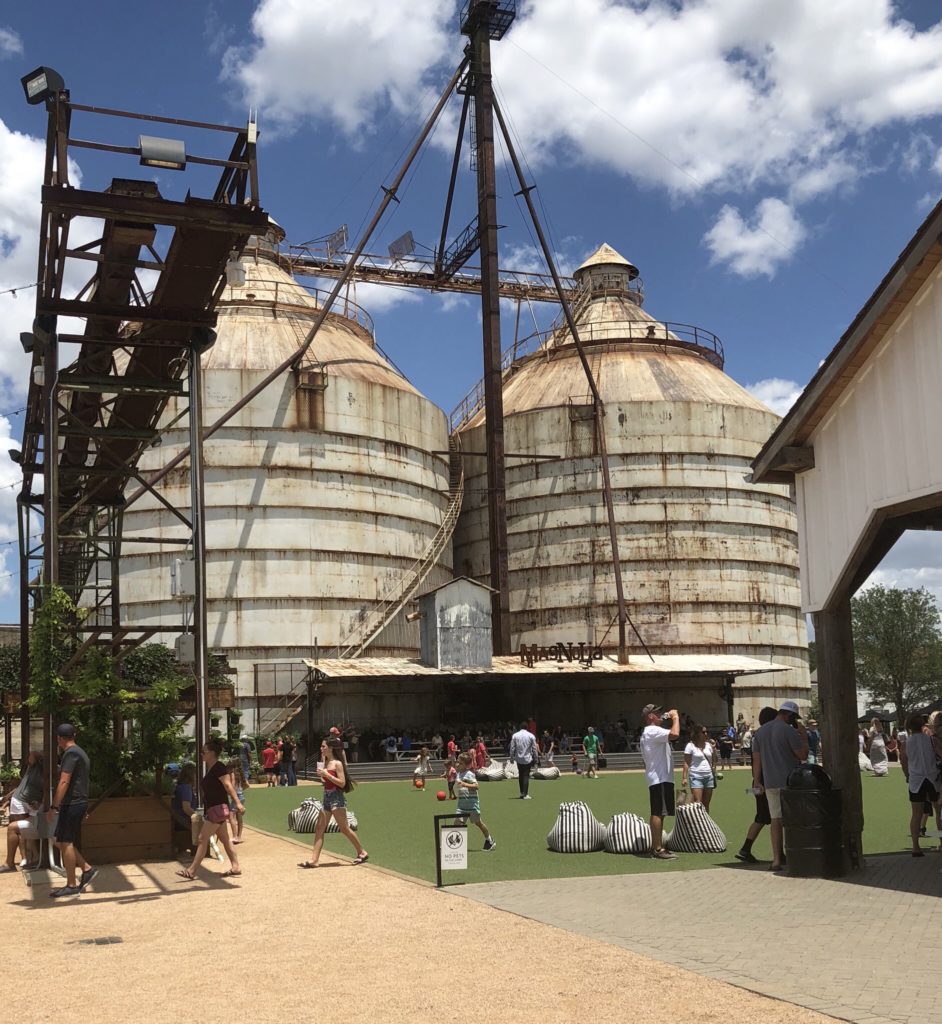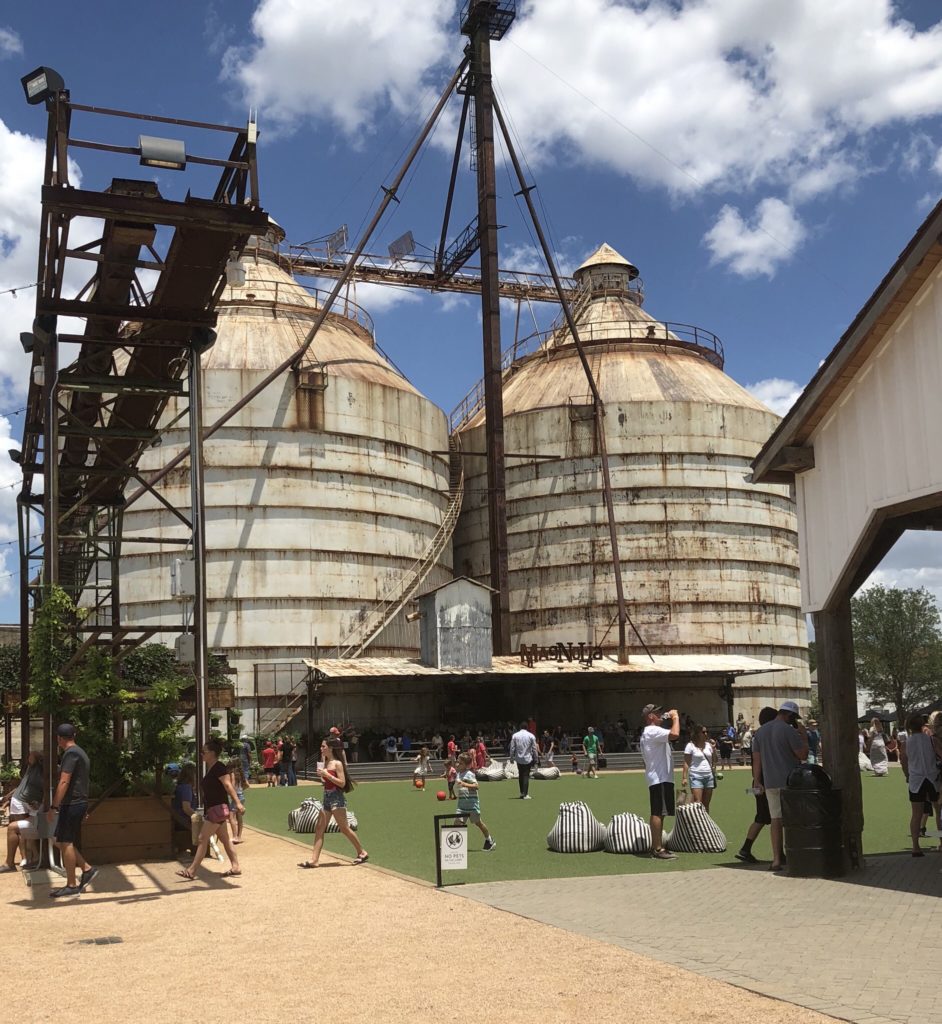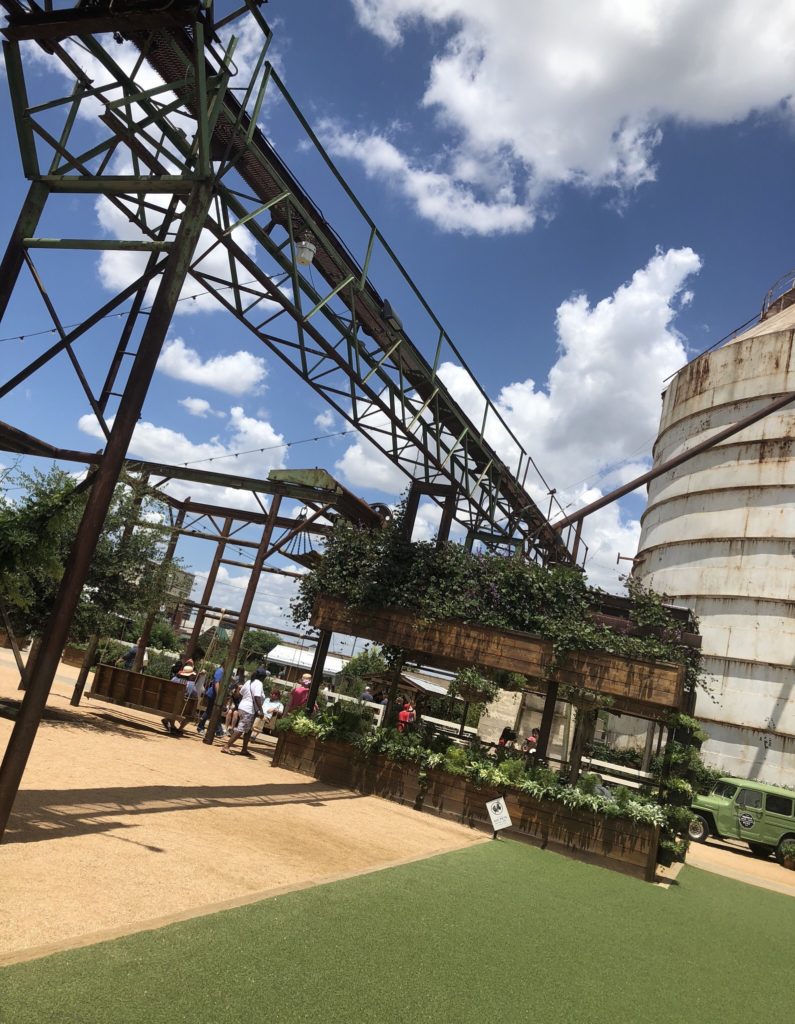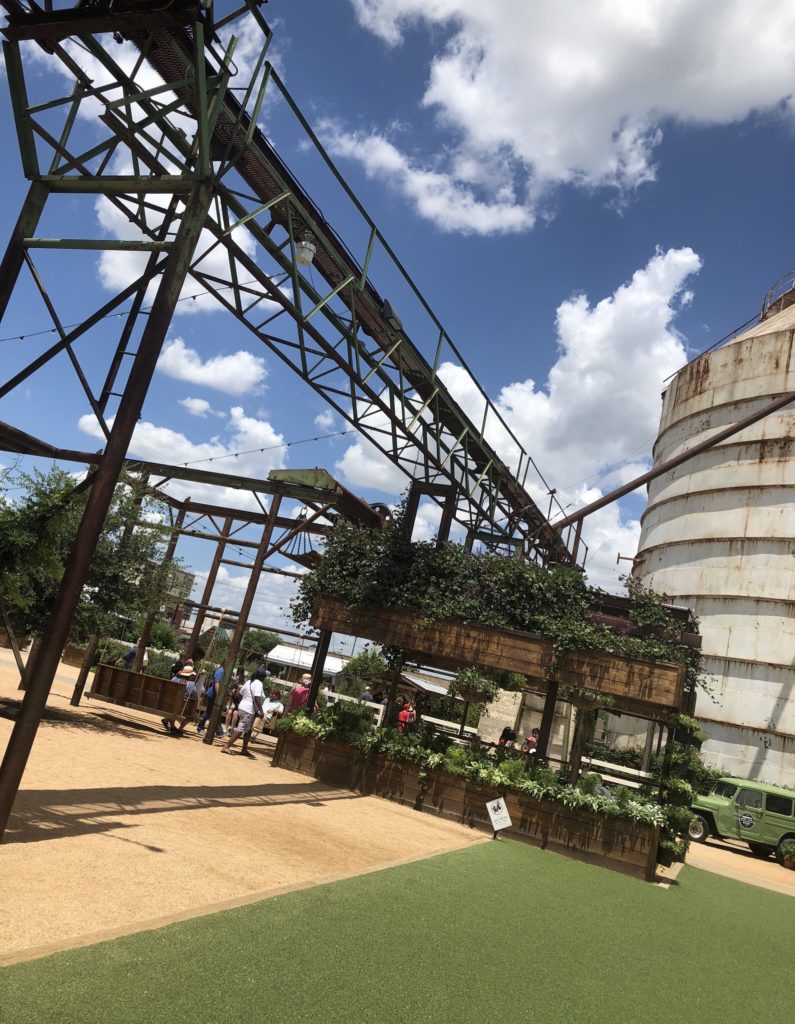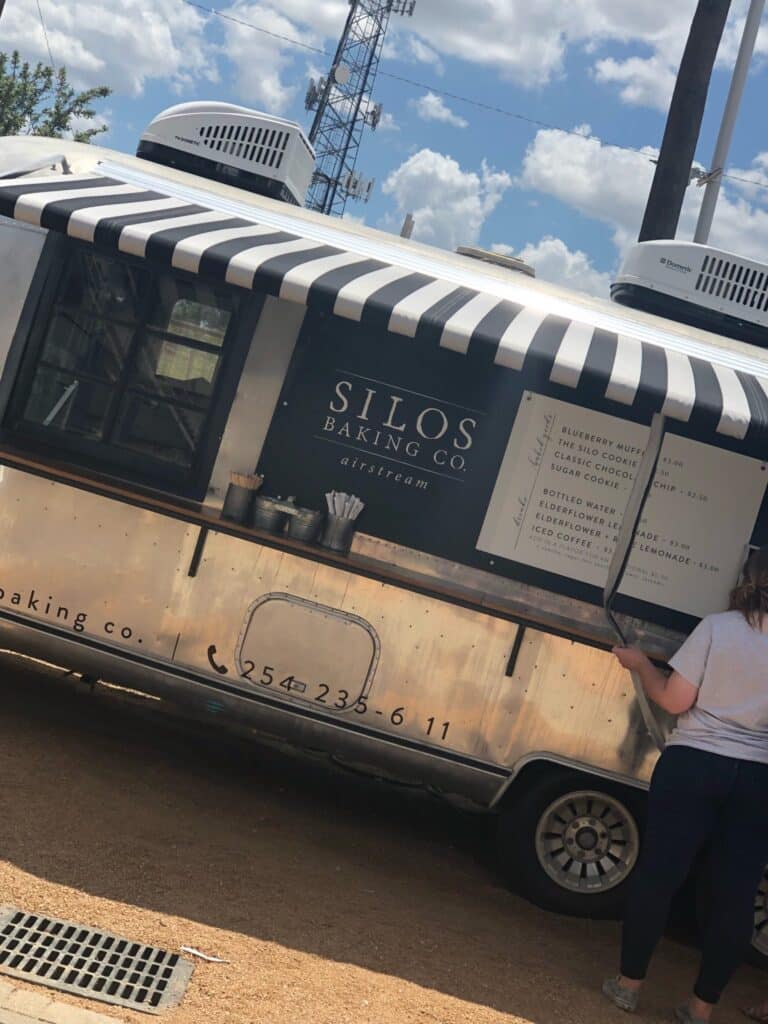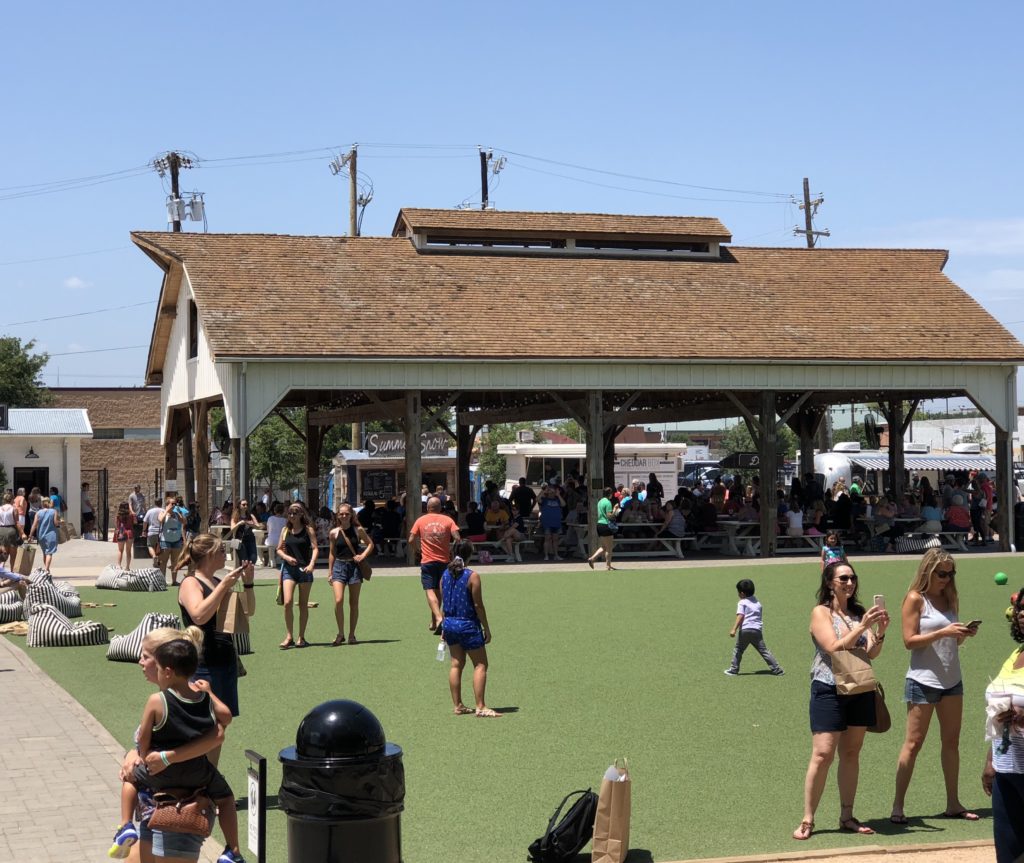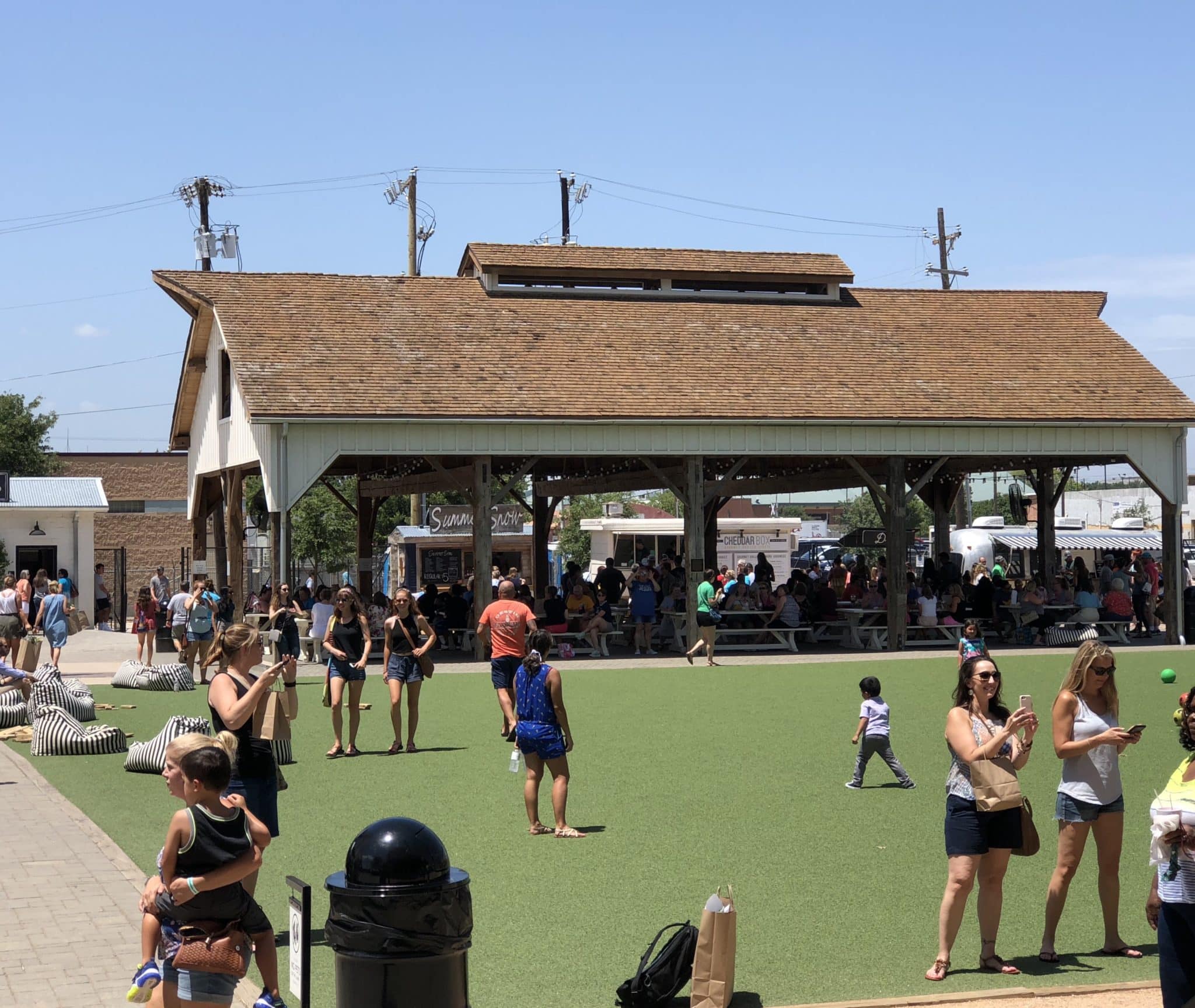 The Seed and Supply Co. and The Gardens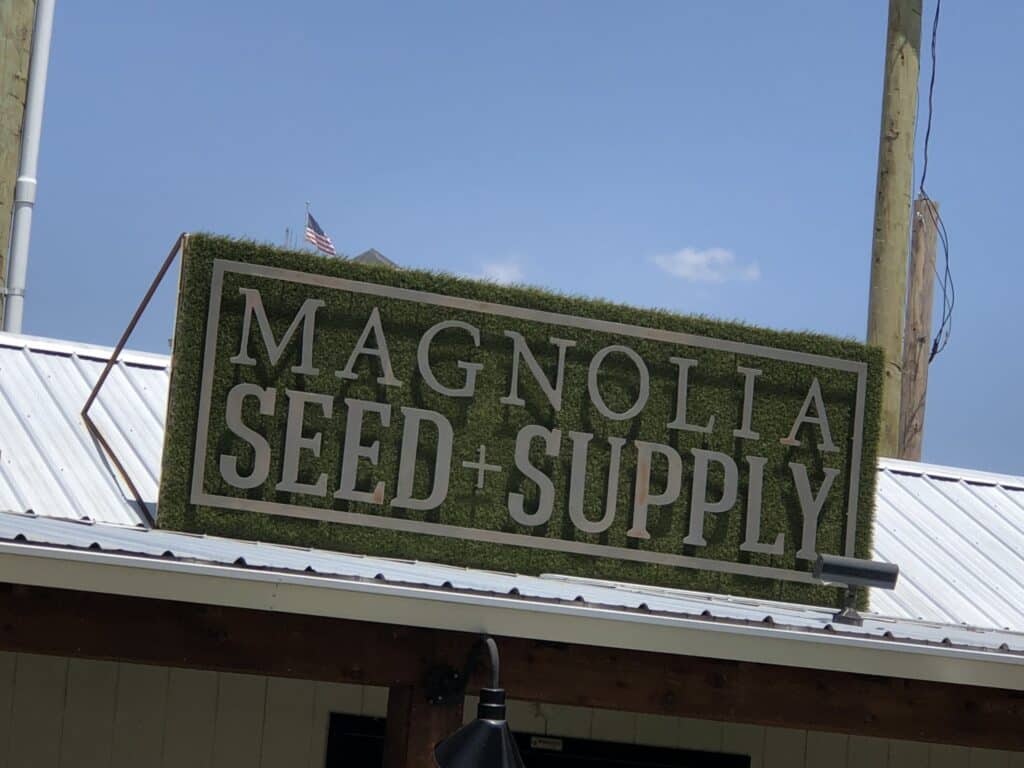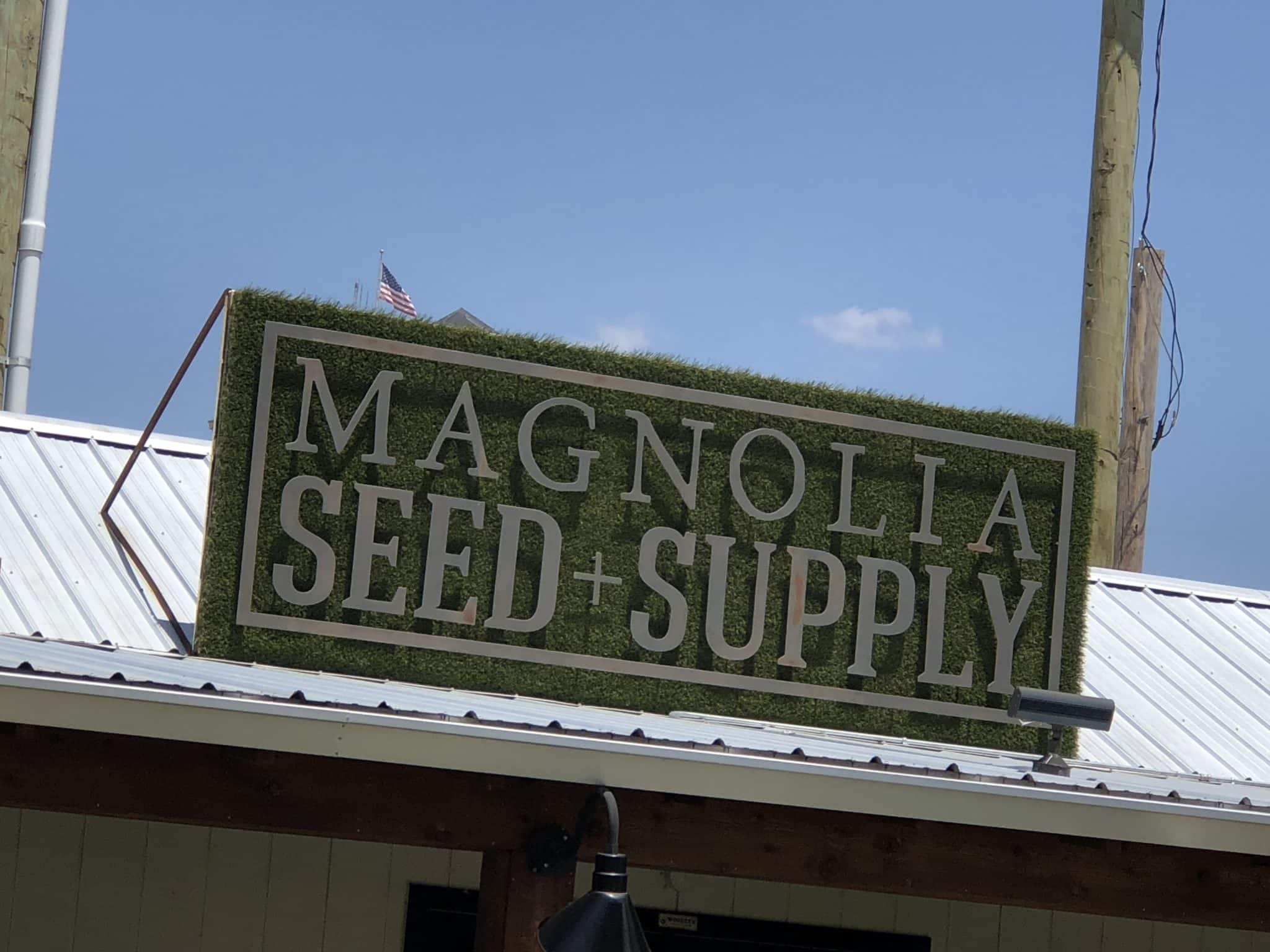 This space is located in the back corner of the grounds and is so peaceful and tranquil. The gardens are filled with flowers, herbs, and veggies, and is cared for beautifully. I got the feeling I was taking an afternoon stroll through a friend's personal backyard garden. I loved the little chalkboard signs marking the various plantings, the wood planter boxes, brick paved paths, and the aroma from the plants. We ended at the Seed and Supply Co., a little garden shed of sorts with double doors, opening up to an intimate shopping experience filled with seeds, herbs, flower canisters, garden tools, candles, gardening books, and other outdoorsy decorative pieces. It's a very pretty area of the Silos property and I wouldn't miss seeing it when you go!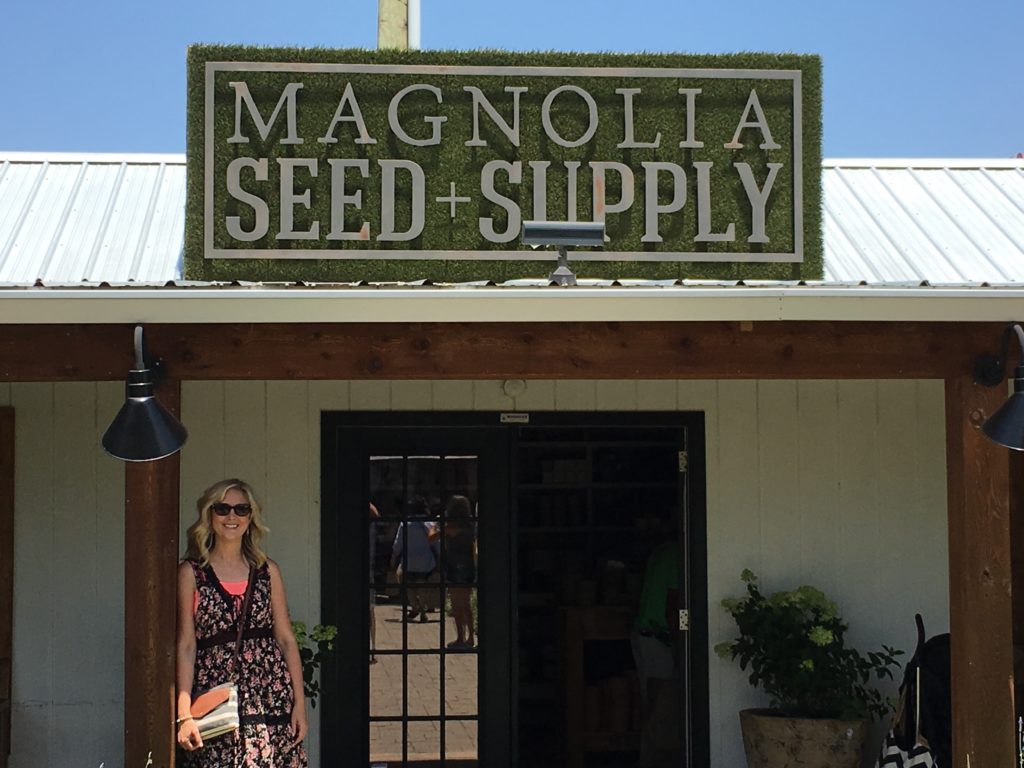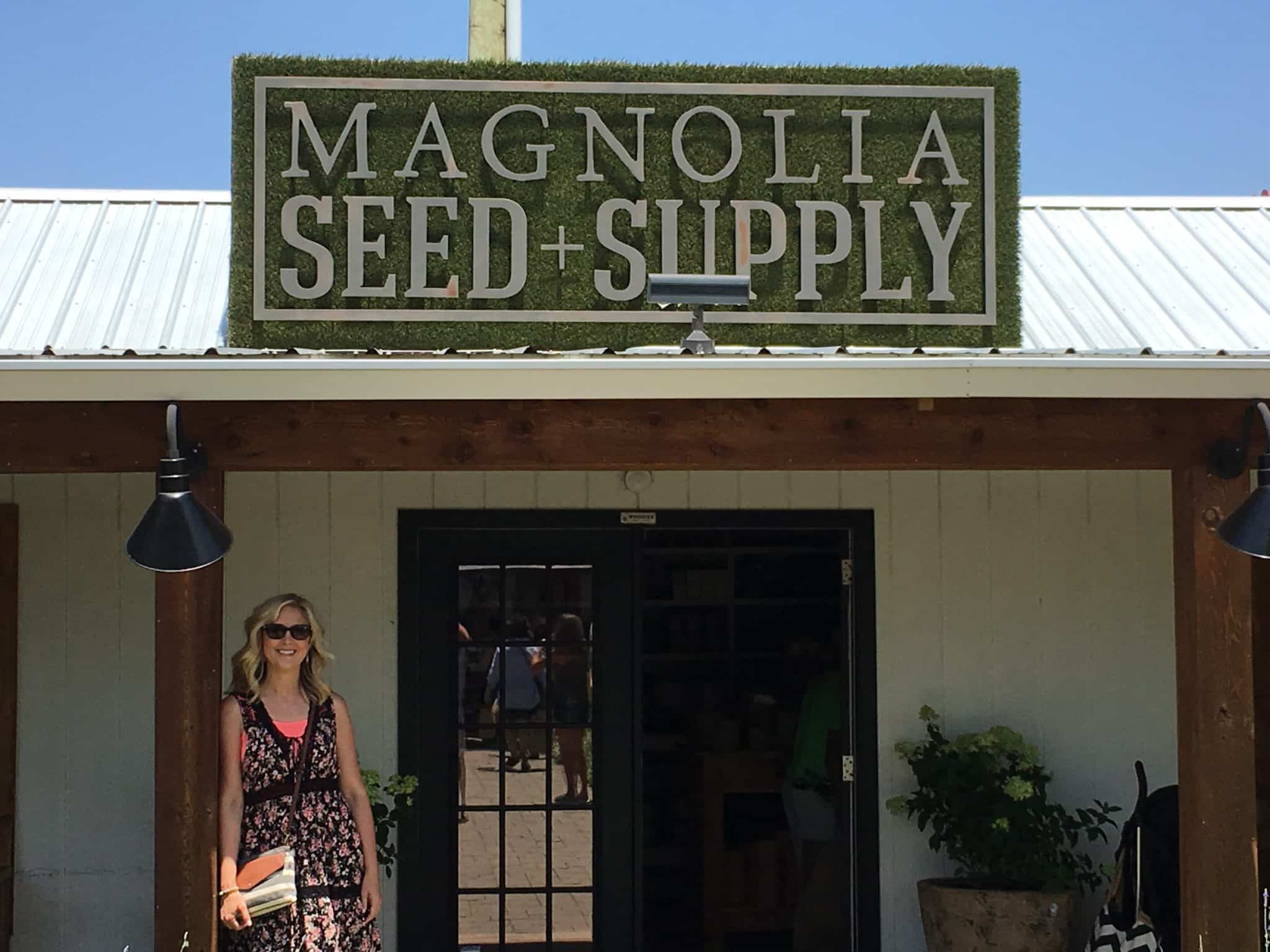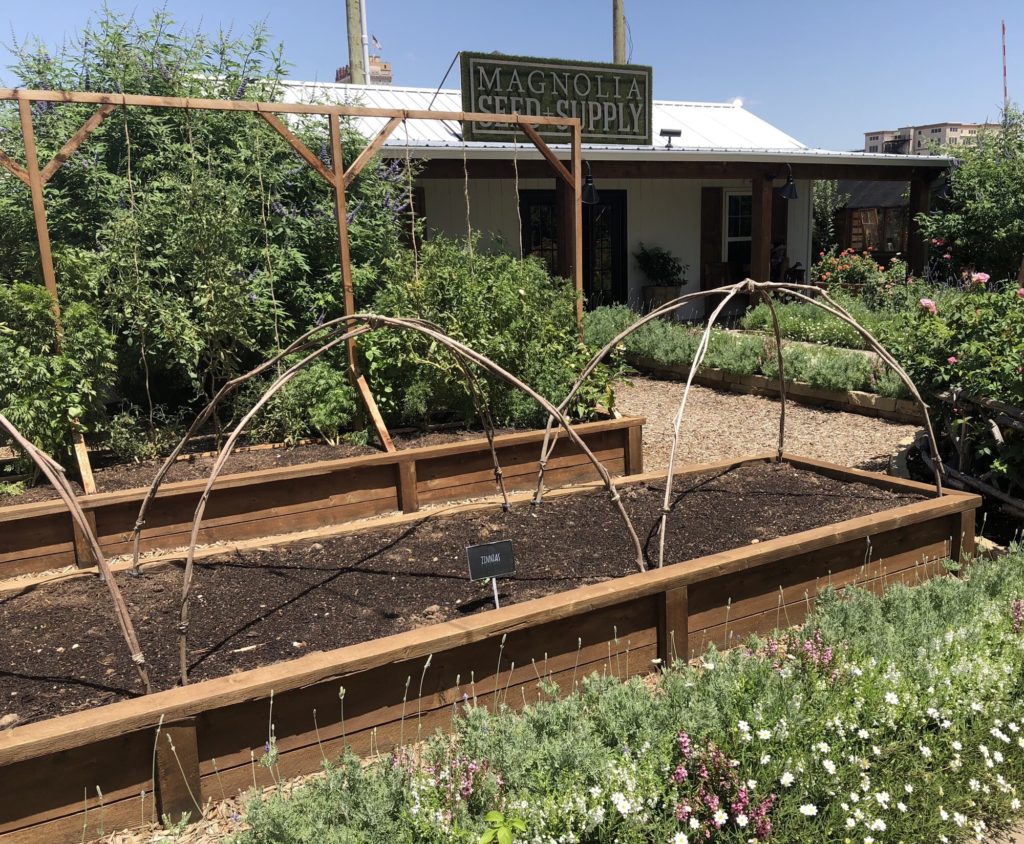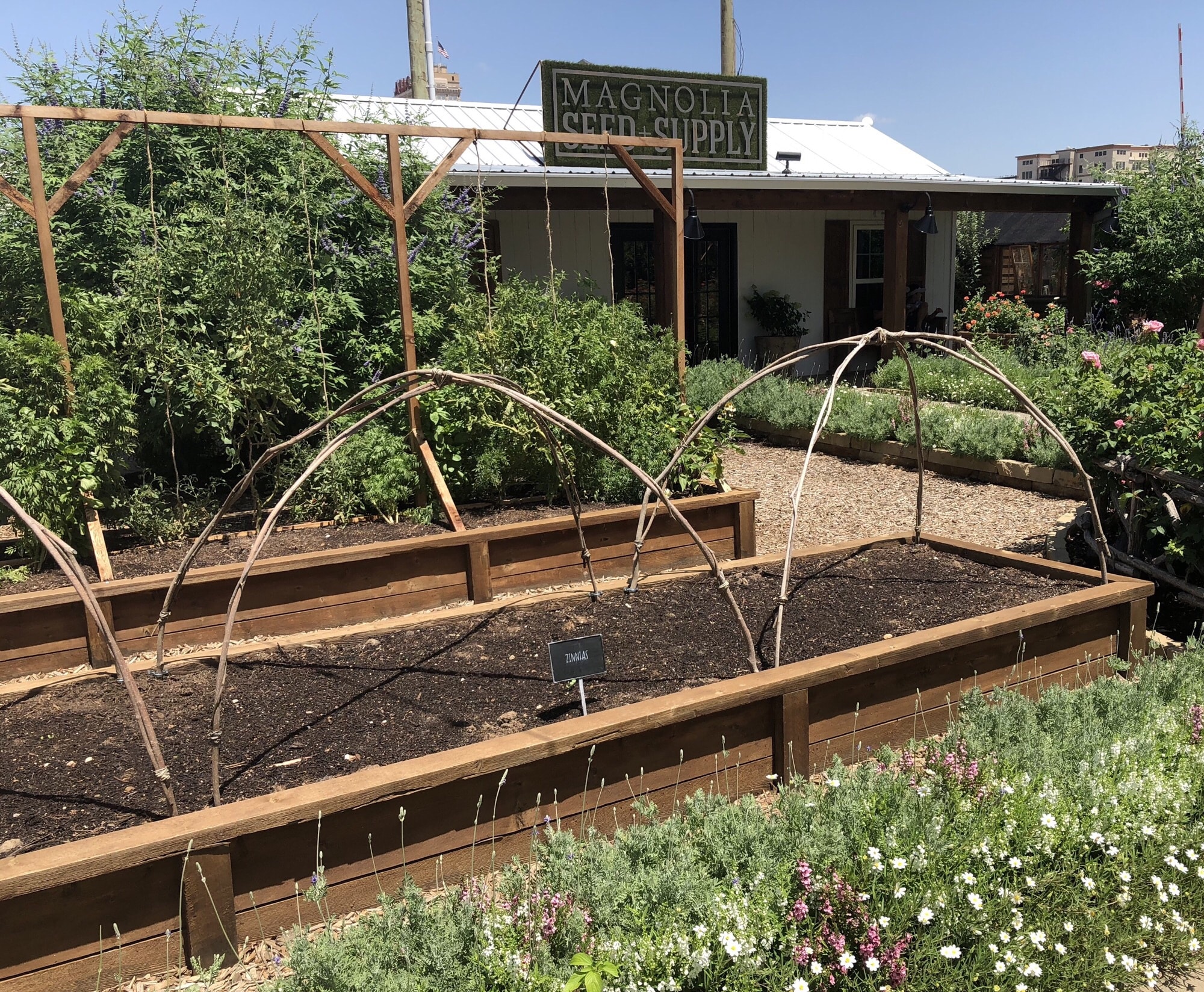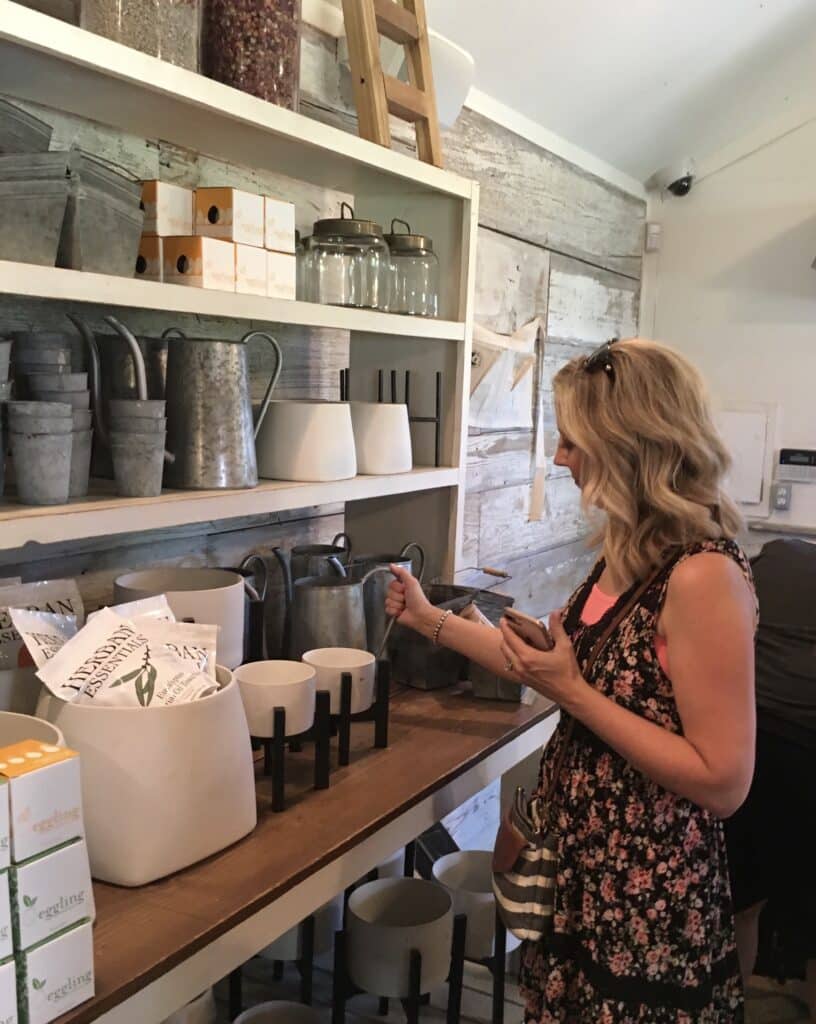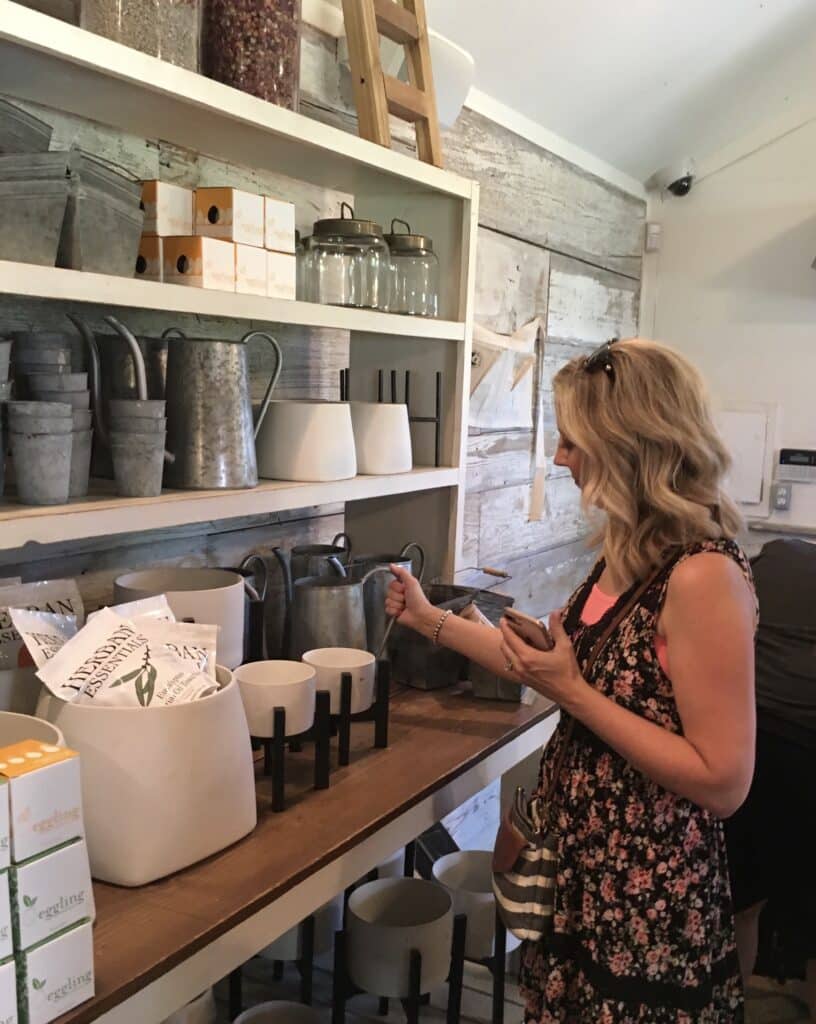 The Magnolia Market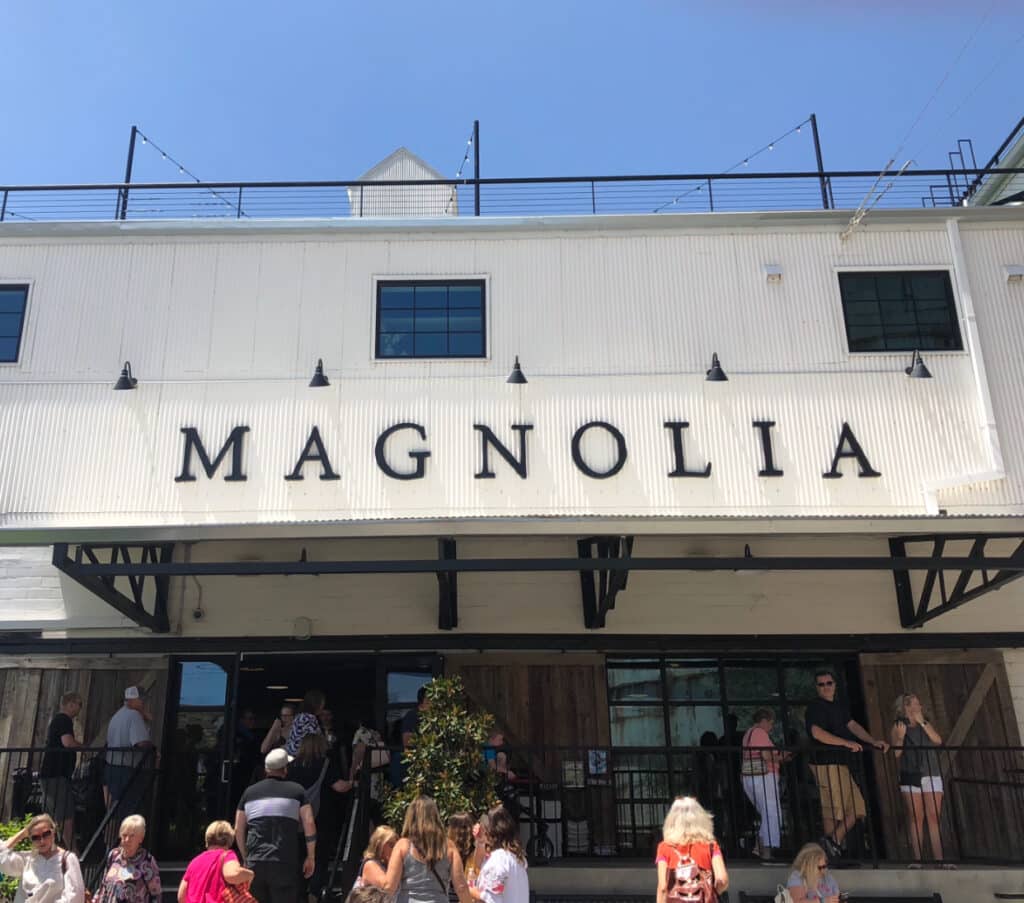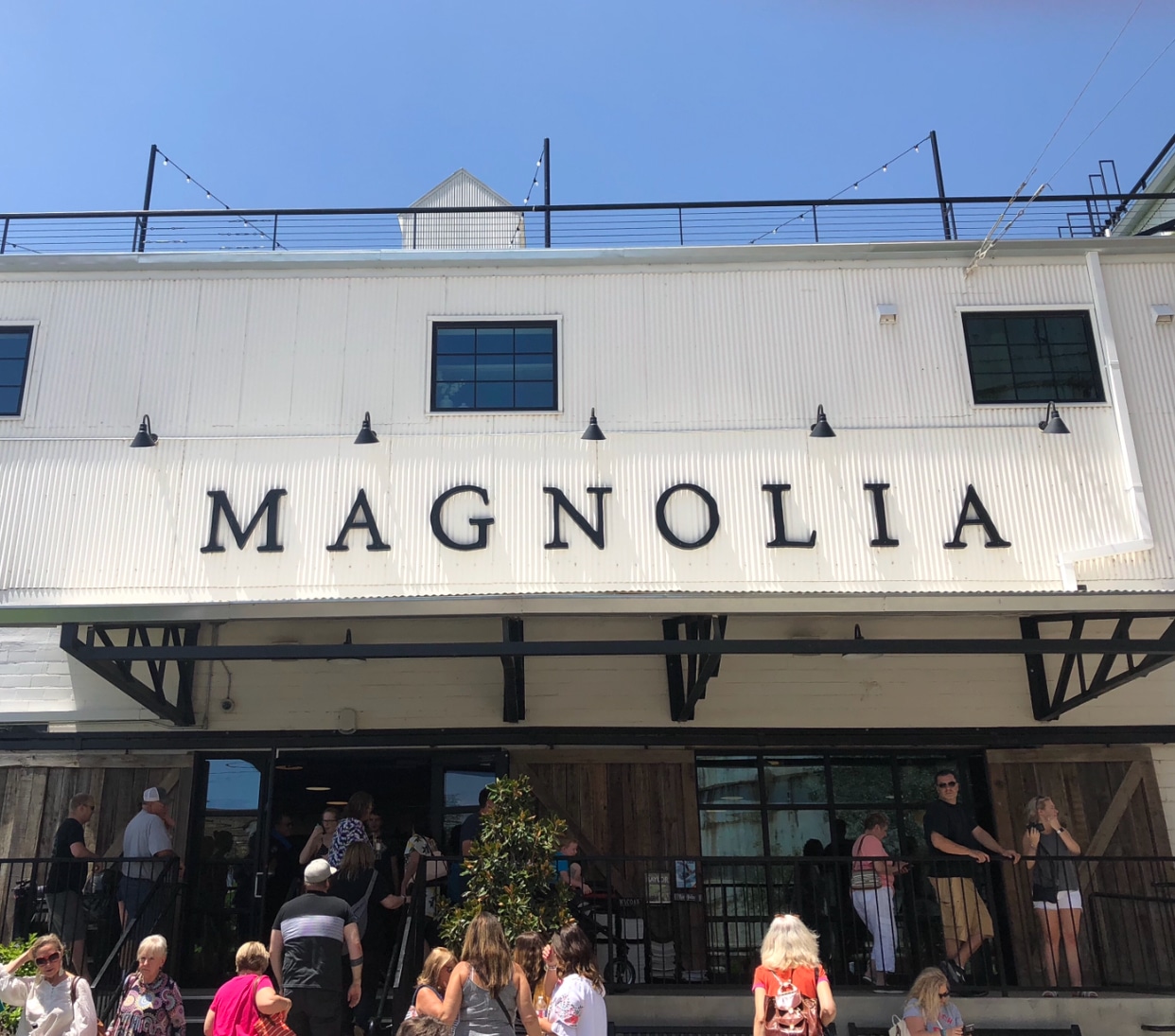 The Magnolia Market is the mecca shopping experience for Fixer Upper, and Chip and Joanna Gaines fans. The minute you walk into The Market, it oozes the look and feel you get when you see one of their renovated Fixer Upper houses on the show…the textures, the colors, the smells, the natural and casual elements. The Market is open Monday thru Saturday from 9 am to 6 pm, and we went on a Friday and Saturday (Saturday being much busier.) I found candles, wreaths, florals, furniture, table linens, dishes, Jimmy Don signs (of course y'all!), and so much more! It's so fun to just enjoy casual shopping in the setting of this beautiful and authentic granary, with high, open-structured ceilings, shiplap lining the walls, black wrought iron accents, and natural wood displays and open trusses throughout… I really felt I had stepped into a Magnolia home showcase! Helpful Tip: Bring an extra suitcase for your findings…or a U-haul! 😉 Really, though… I would recommend picking up what you can easily pack for those momento pieces you want to remember buying at The Market.. candles, mugs, even a small Jimmy Don sign.. and either ship the rest home (which they offer as a service at check-out) or shop those bigger items online and have them delivered to your home (which I've heard is less shipping expense, but make sure that piece you want in the store is available online, otherwise buy it/ship it from the store.)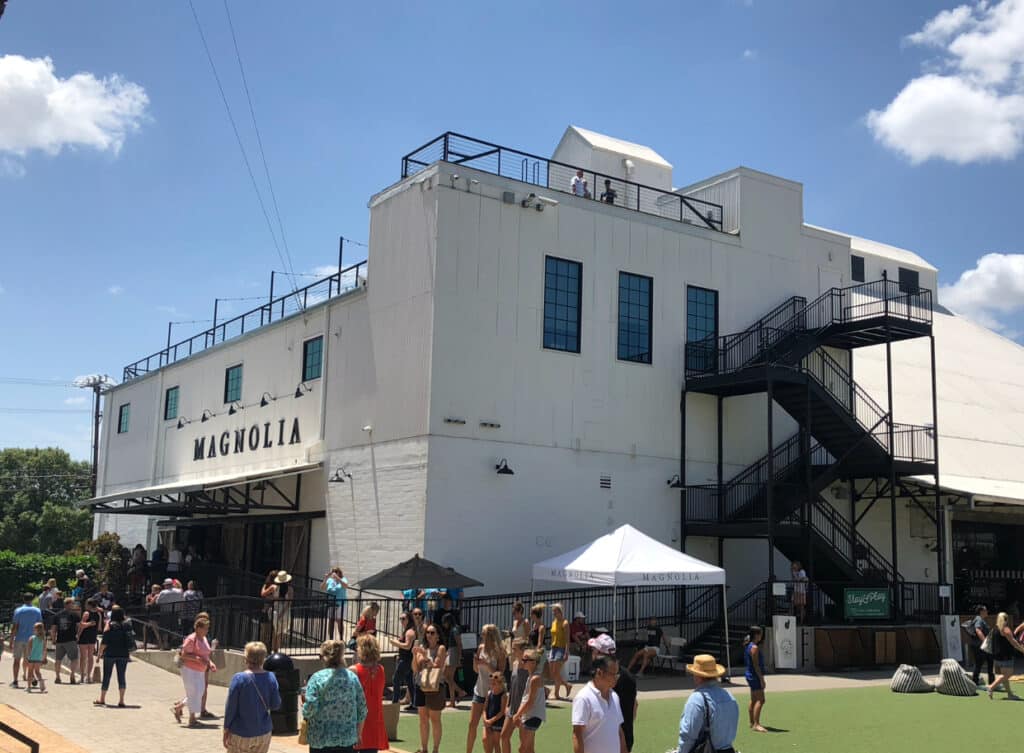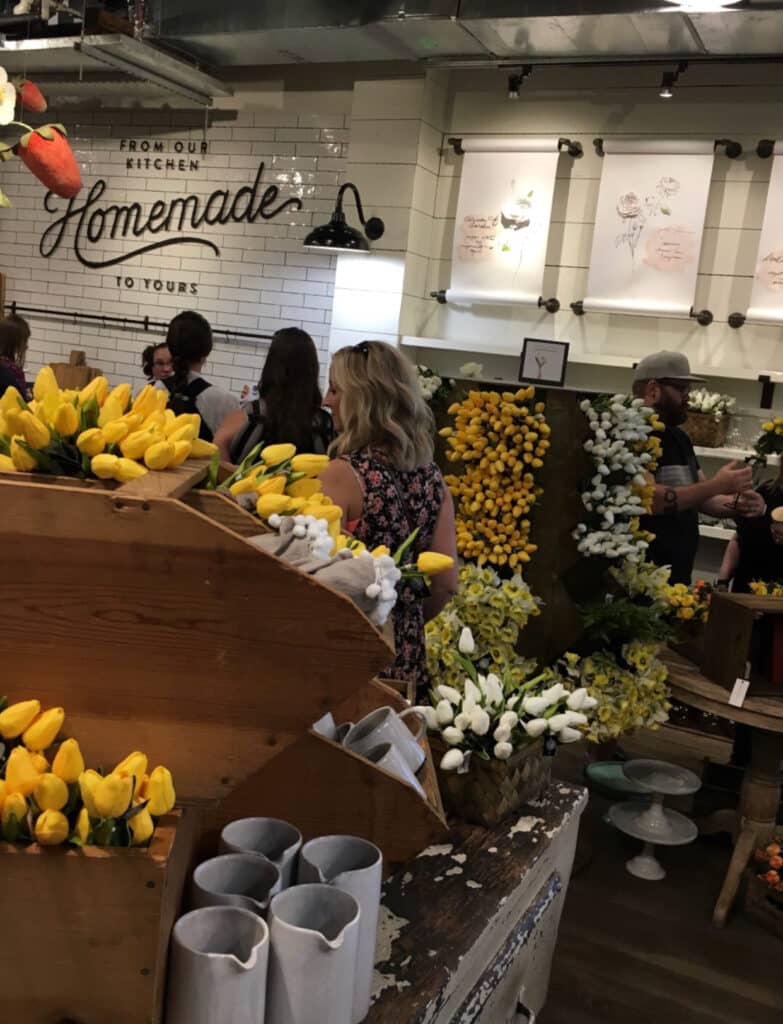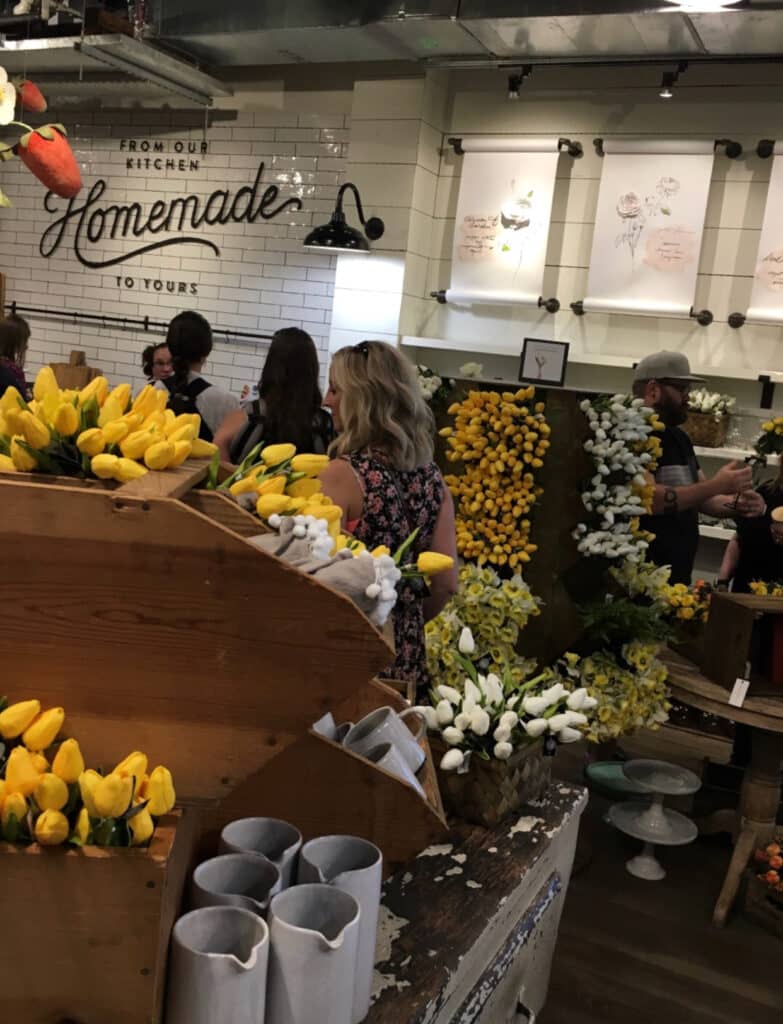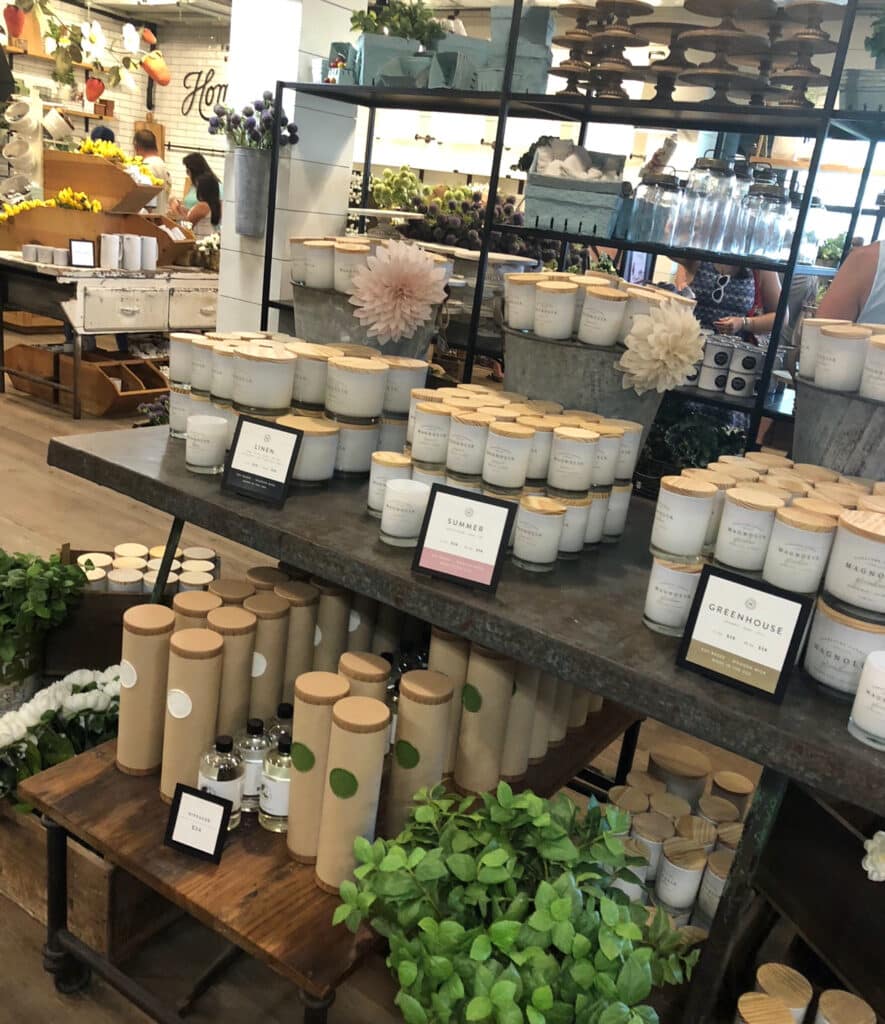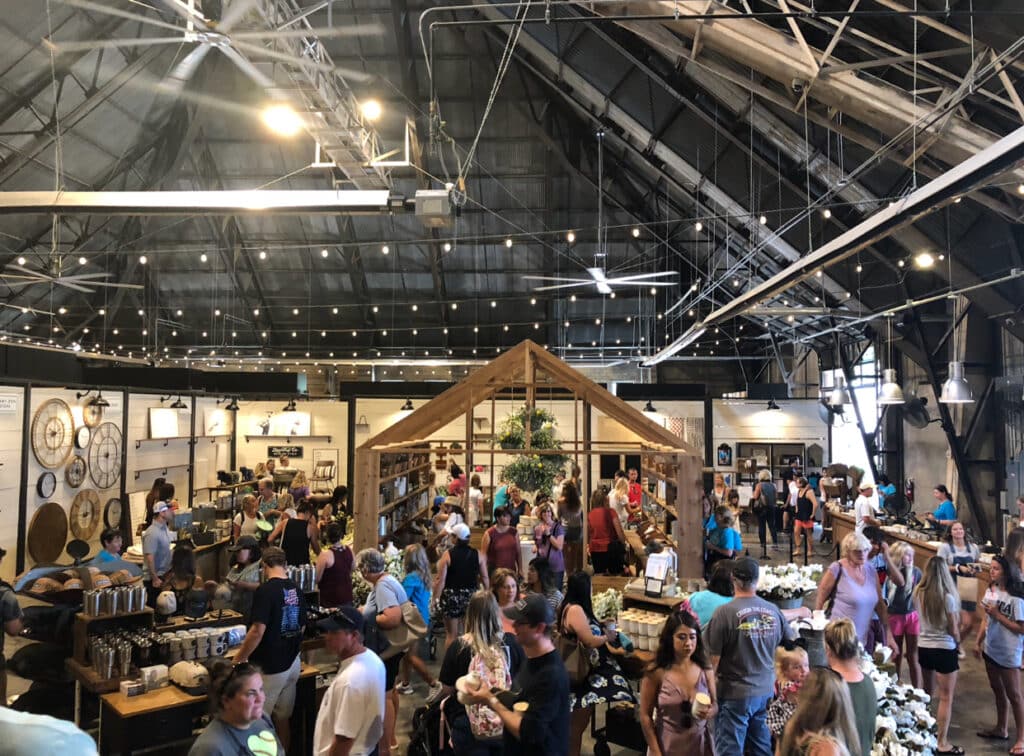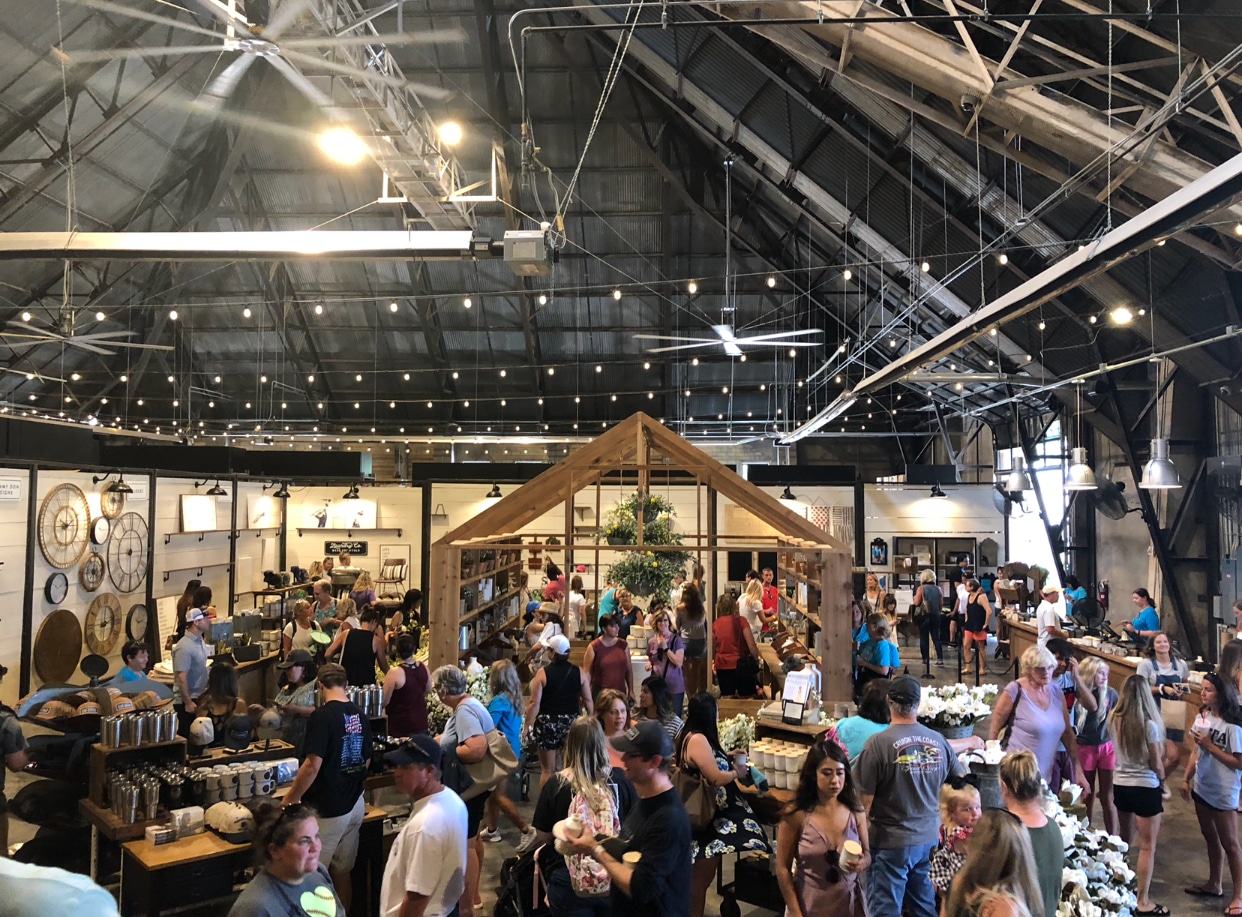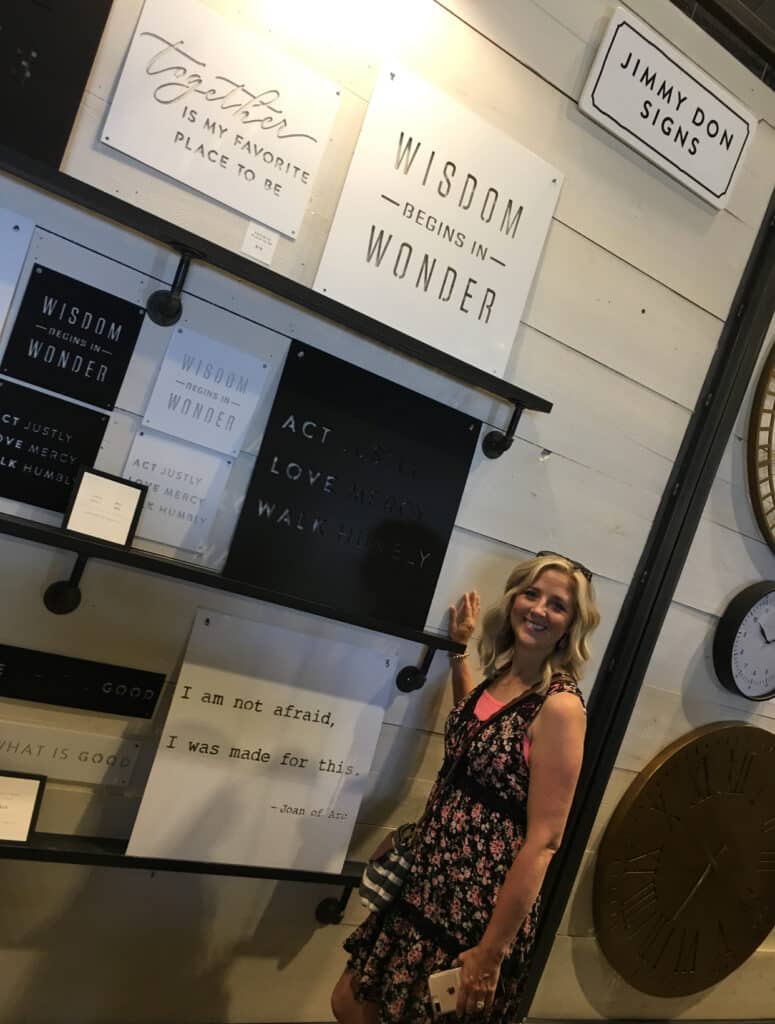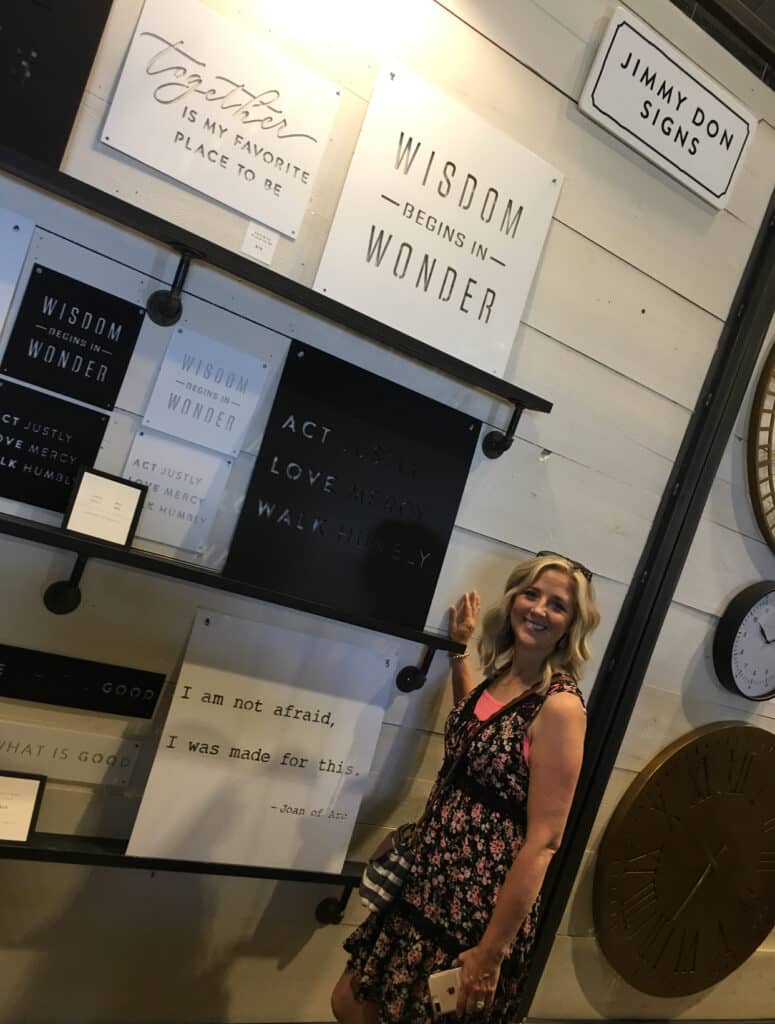 Recap
You can definitely see The Magnolia Market at the Silos in one day, but I would recommend two days, using the first day to really take it all in, and the second day, as time to go back and leisurely enjoy the parts you loved, and purchase the things you had your eyes on.
I was pleasantly surprised at the affordability of everything… from food to the merchandise, everything was very reasonably priced, and I felt very similar to what I would spend at a normal shopping day with my family in Michigan.
The staff is so super friendly and extremely helpful, and welcoming; anything you need…they are there ready to be of service!
I was impressed by how every.little.detail was thought out and the whole property was laid out and organized to be a welcoming place of leisure and fun… places for kids to run off energy, areas to get out of the sun, ways to get through lines quickly, and places to sit and just enjoy the scenery. It really was a pleasant couple of days of good, wholesome, old-fashioned fun for us… kind of what the soul needs more of in our busy, fast-paced lives.
My Travel Notes
We flew into Dallas Fort Worth airport (straight flight from Detroit to Dallas) and rented a car… note: the car rental place is a bus ride and a distance away, so especially for your return flight – allow at least an hour travel time for this.
There is parking all over the place at the Silos and even a trolley service for lots farther away. We parked at the lot across from the Baptist Church, right next to the Silos, paying $10 – what a financial blessing Magnolia must be for this church!…wonderful!
We stayed at The Hotel Indigo – nice!! and only 3 blocks about from The Silos. We had one of the best meals there too at the Brazos Bar & Bistro (if you go, I recommend you get their stuffed chicken avocado platter, their cheese platter, and for your entree, the spinach stuffed chicken…all heavenly!) Even if you don't stay there, it's a great place to stop (very close to the Silos) for a nice dinner on your way home. Location: 211 Clay Ave | Waco, TX.
Other Fun "Fixer Upper/ Magnolia" Things to Do while in Waco
The Original "Magnolia Store":
Visit the original "Magnolia" Store – Joanna's original store she had years ago, before her Fixer Upper fame, and now is their "Magnolia Warehouse Shop" – open Thursdays-Saturdays from 10am to 5pm, where they offer their last chance items & slightly damaged products at a discount. Located at: 3801 Bosque Blvd | Waco, TX
Fixer Upper Houses:
Drive by some of the Fixer Upper houses from the Show…. we were able to catch these two beauties below and I knew the minute we drove by they were one of Chip & Joanna's Fixer Upper homes.. you can just tell by their signature style: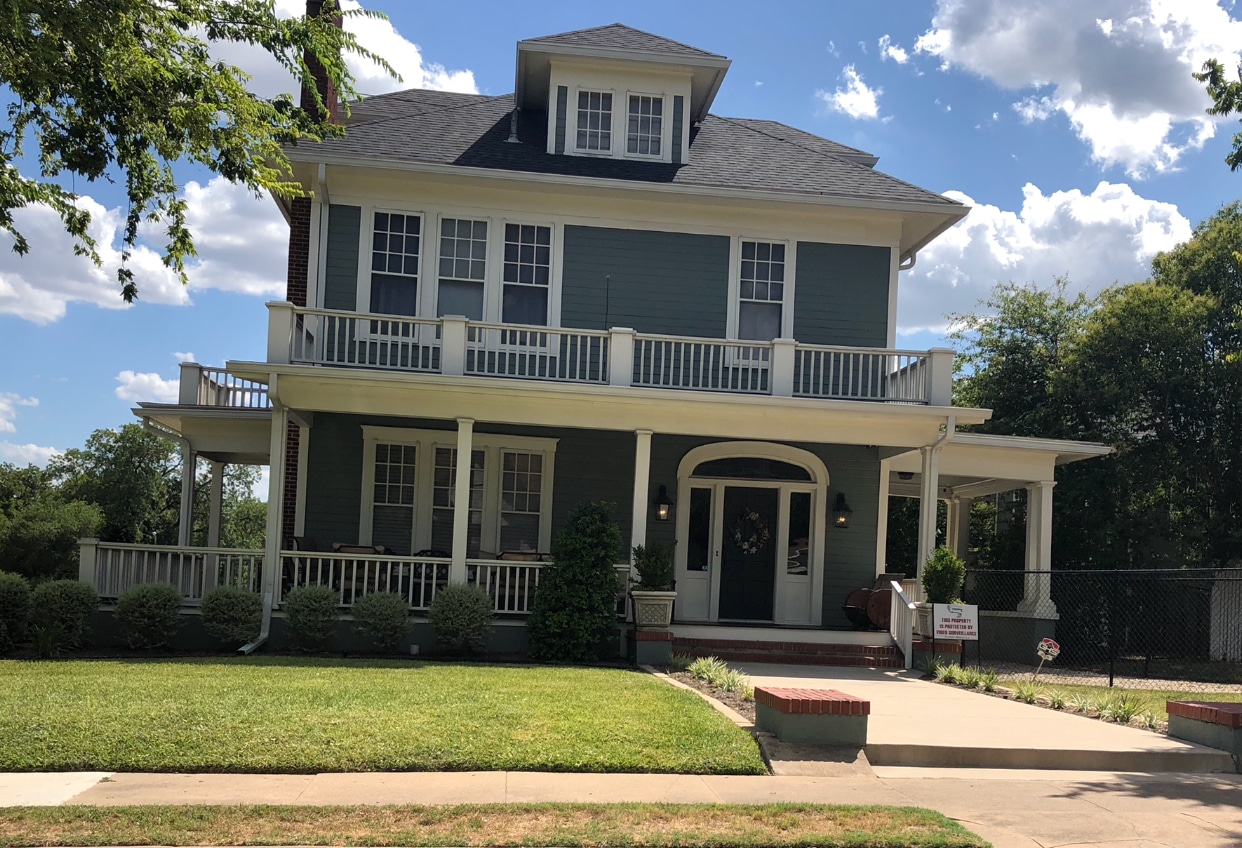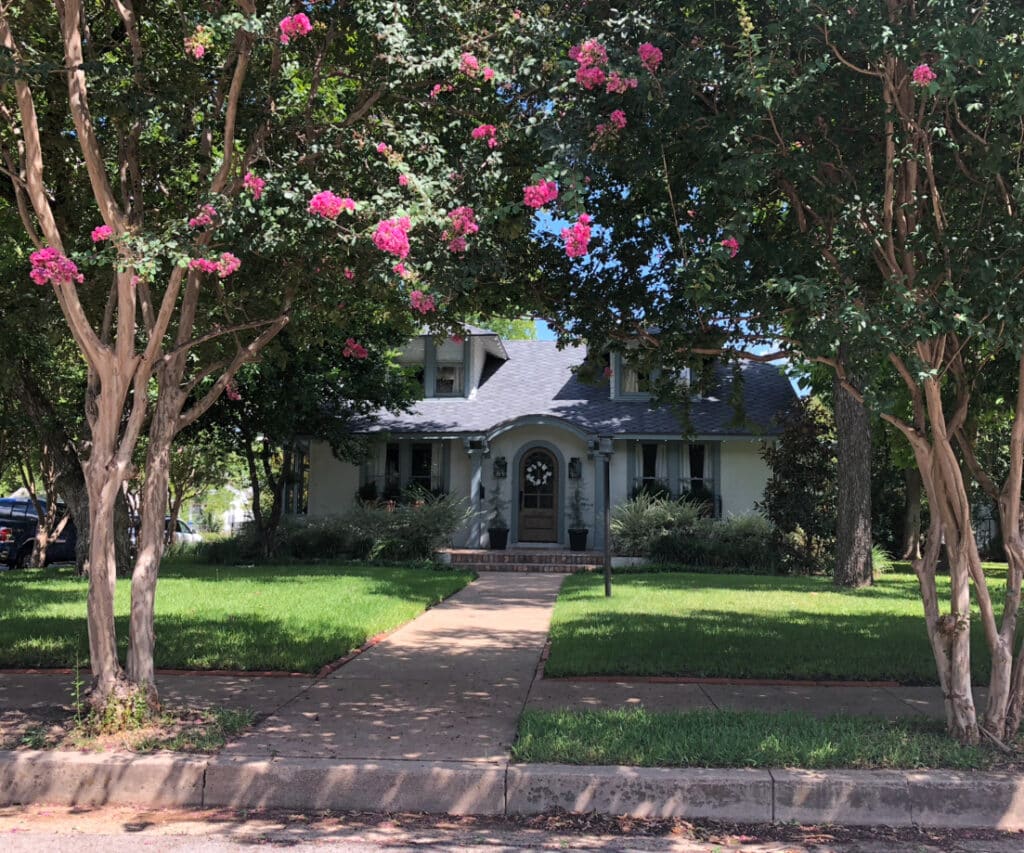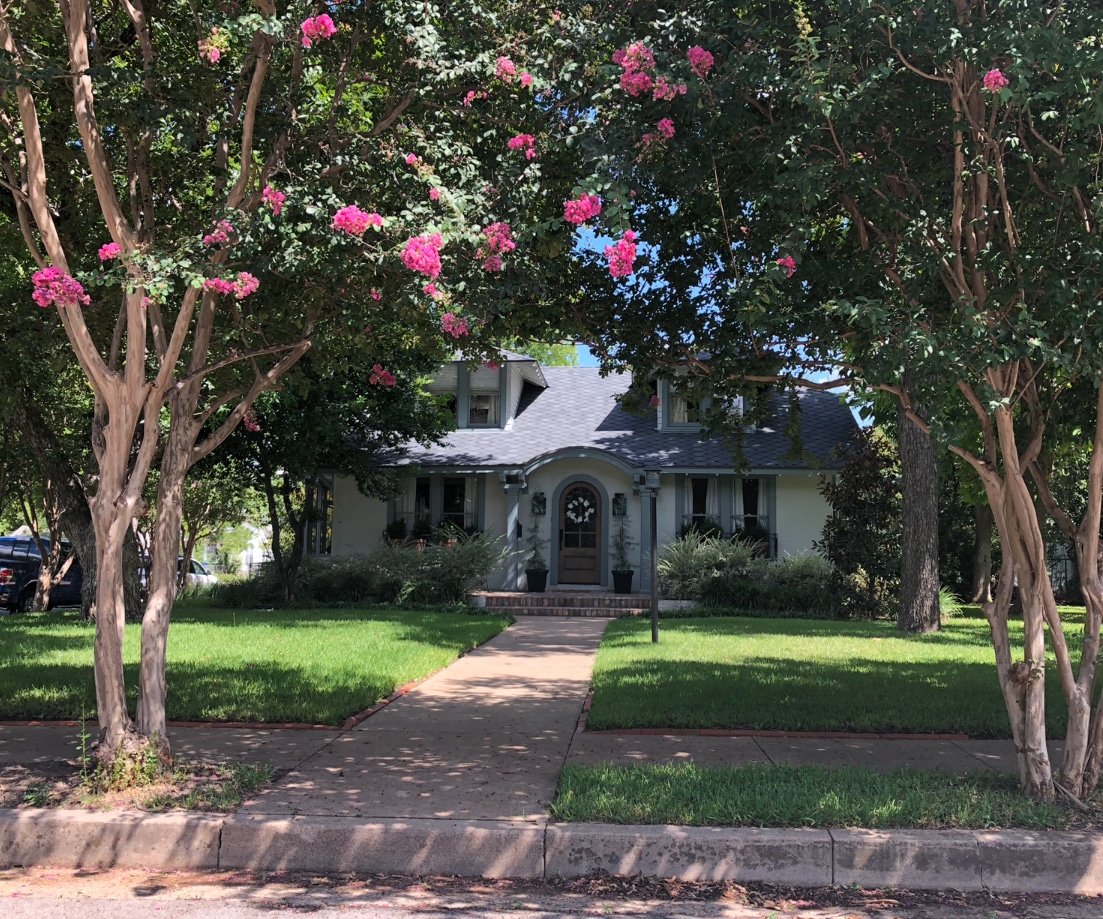 Laverty's Antiques:
Stop by Laverty's – The Antique Shop Joanna hits up for many of her decorative pieces she uses to stage homes. When we dropped by, they were closed and it looks like they only re-open when they have enough merchandise to re-fill their showroom, but by the off chance they're open, it would be fun to browse, or at least get a good photo op! Located at: 3520 600 North 18th Street | Waco, TX.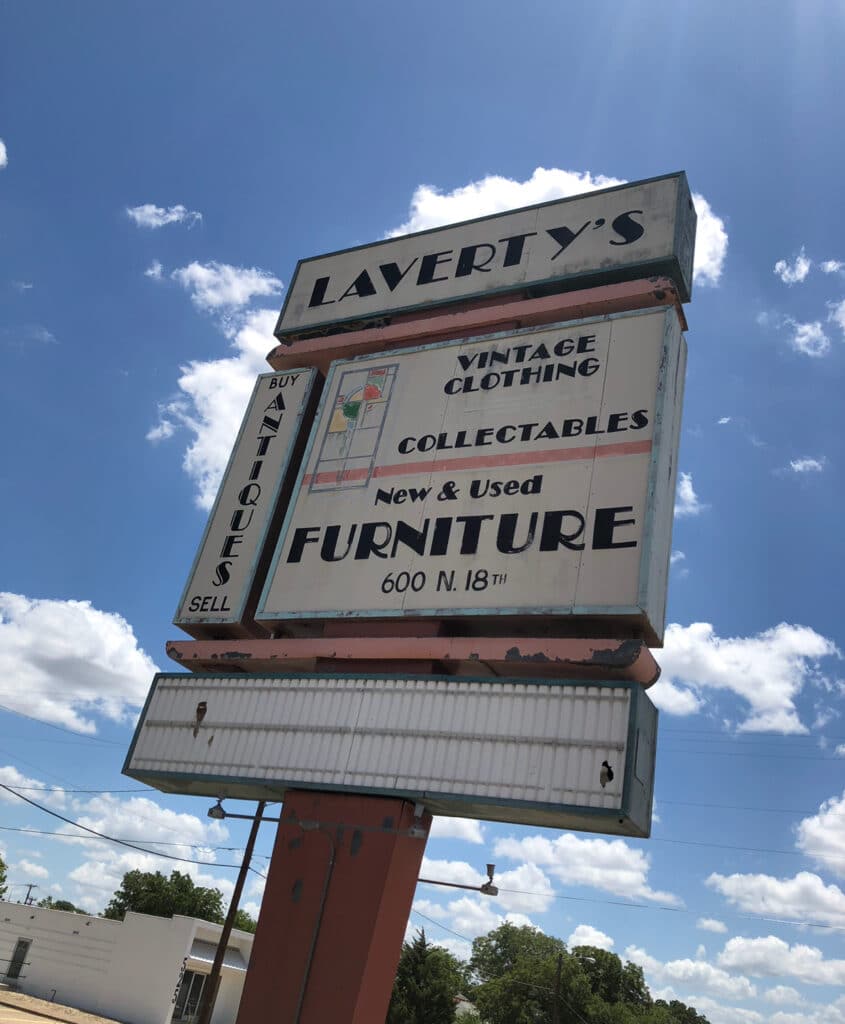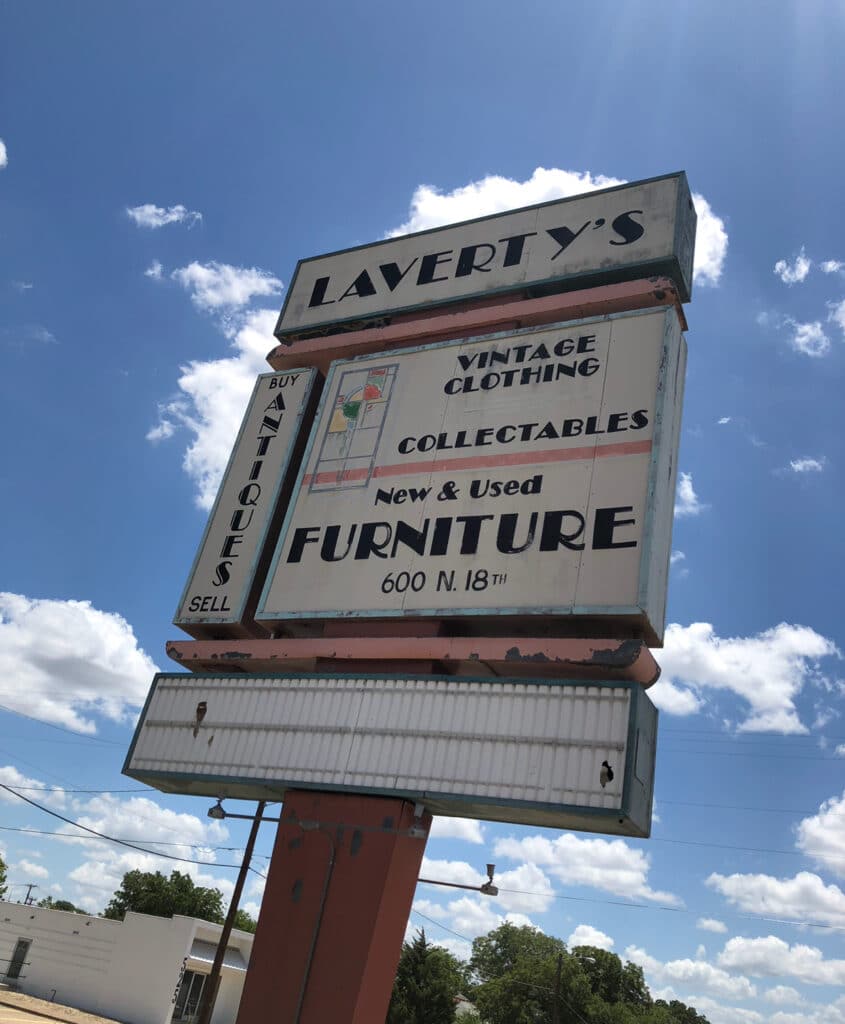 Harp Design Co:
Shop at Harp Design Co. – Clint Harp and his wife Kelly's handmade wood furniture and home furnishings shop…if you watch Fixer Upper, you'll know Clint as the craftsman who made some of Joanna's beautiful furniture pieces she used in her Fixer Upper homes. Clint and Kelly also have a spin-off show of their own called Wood Work, just in it's first season on the DIY Network. Location of Harp Design Co.: 808 N 15th Street | Waco TX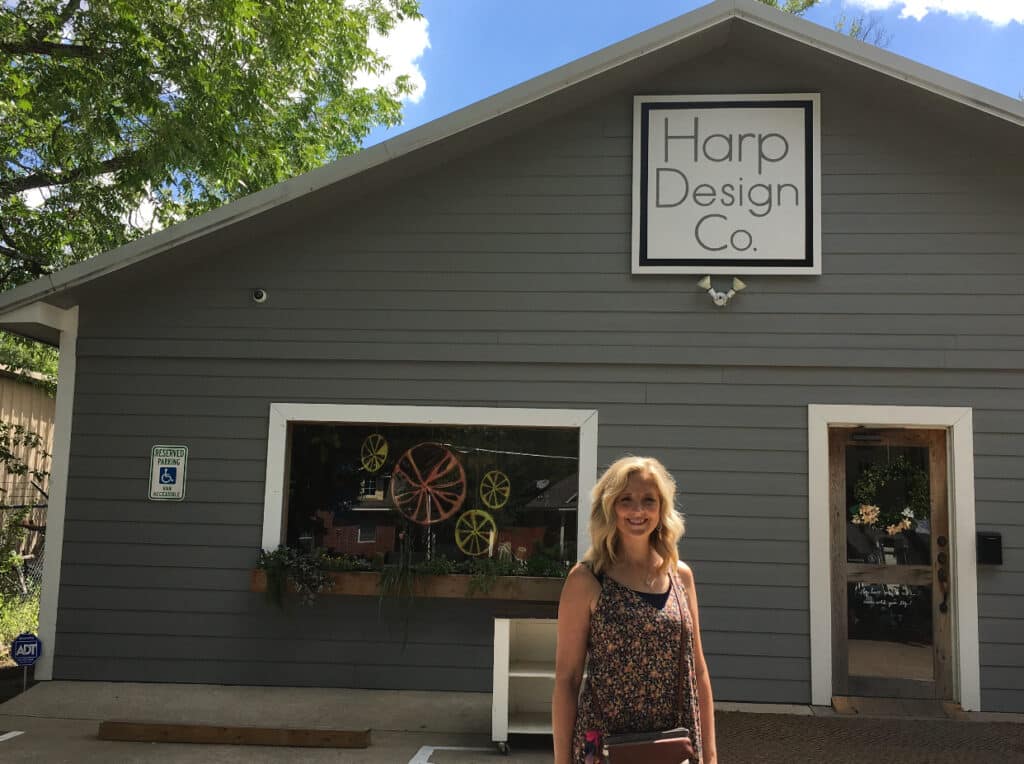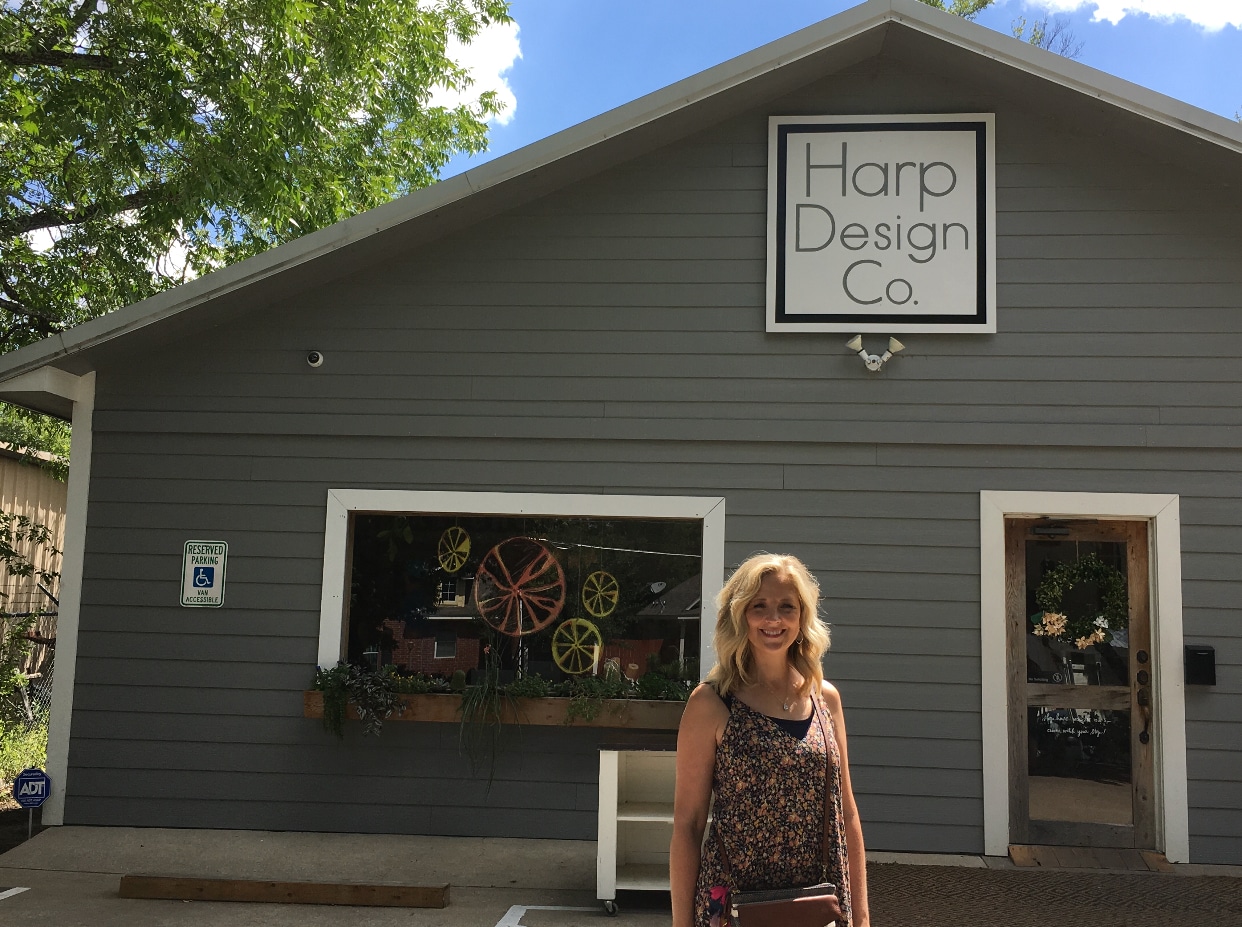 Spice Village Collection of Shops:
And if you desire to do more shopping while in Waco, I suggest you visit the boutiques at

Spice Village

– This is a major hub for boutique shopping with over 60 boutiques under one roof. You'll find home decor, clothing, accessories, gifts, stationary…anything gift and boutique-esk (is that a word?), they have it! There's also some nice restaurants near there as well. Location: 213 Mary Ave | Waco, TX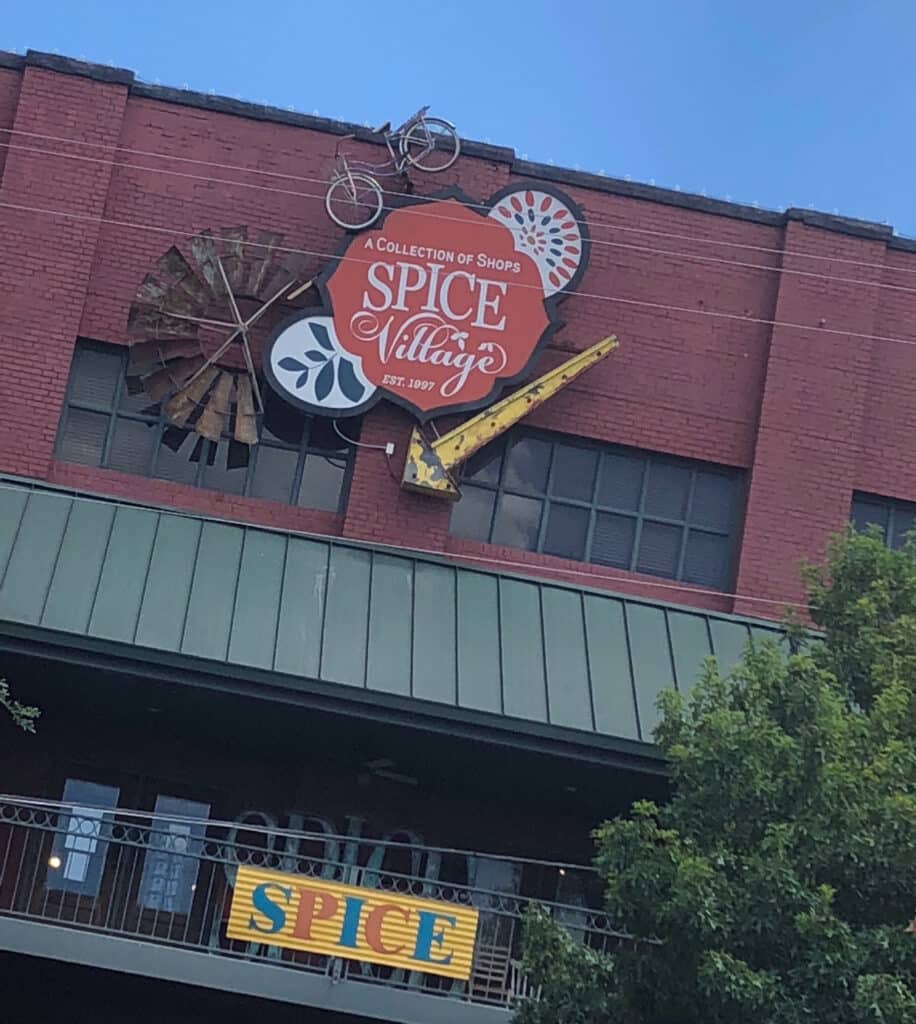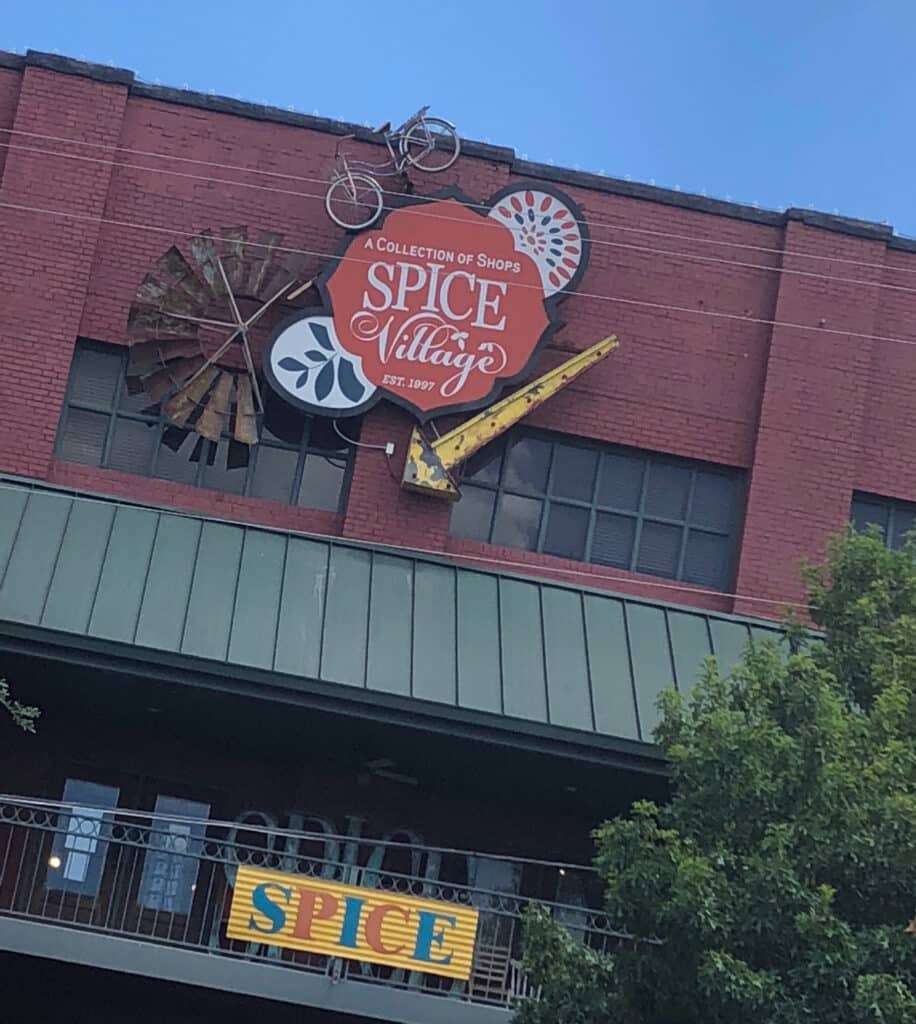 And that's my wrap-up of my 40th birthday trip to Magnolia in Waco, Texas! What a fun trip! The designer, mom, and entrepreneur in me left Magnolia feeling so inspired and I can't wait to visit again! If you love this leisurely type of getaway, and are a Fixer Upper or Chip and Joanna Gaines fan like myself, I would definitely recommend going for a destination trip. And even if you've never watched the show but are anywhere near the Waco, TX area for travel, make sure to take a little time to stop by the Magnolia Silos or eat at the Magnolia Diner; you won't regret you did!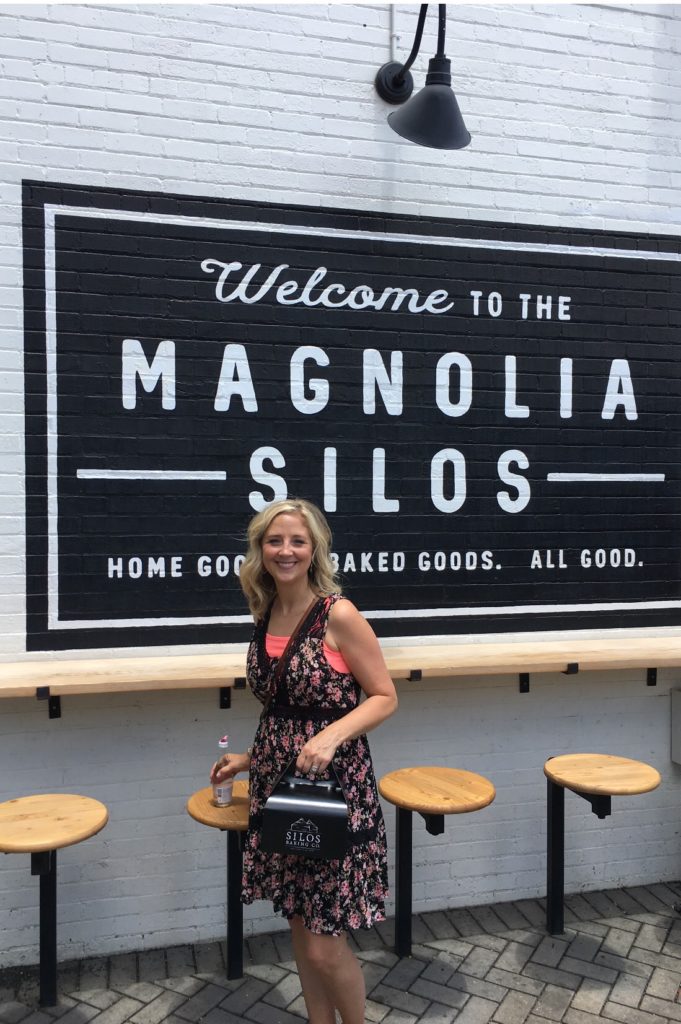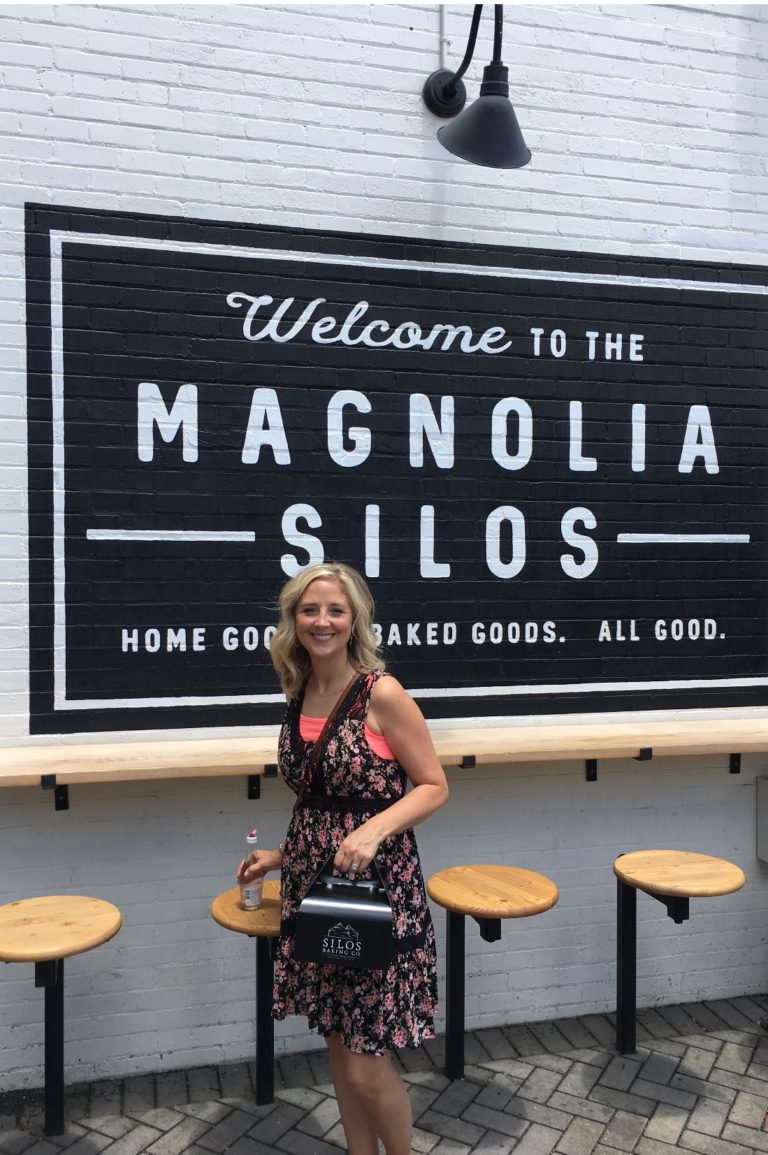 Jaime Lyn Life by Design "Magnolia Giveaway!"
Before you go…. I'm offering a super fun GIVEAWAY on my "Jaime Lyn Life by Design" Facebook Page! I'm giving away: 1 Magnolia "Greenhouse Candle", 1 Magnolia Silos Tote Bag, 2 Magnolia Table Coffee Mugs, and a 1 Year Subscription to Joanna Gaines' "The Magnolia Journal" magazine (4 quarterly issues!)
To Enter: Like and Follow my Facebook PAGE, and Share my Giveaway Post (pinned at the top of my Facebook page.) For Bonus Entries, Tag a Friend (1 bonus entry for each friend you tag) and for another BONUS entry, sign up for my Newsletter right here at jaimelynlife.com! I'll announce a WINNER once I have 1000 Facebook Followers!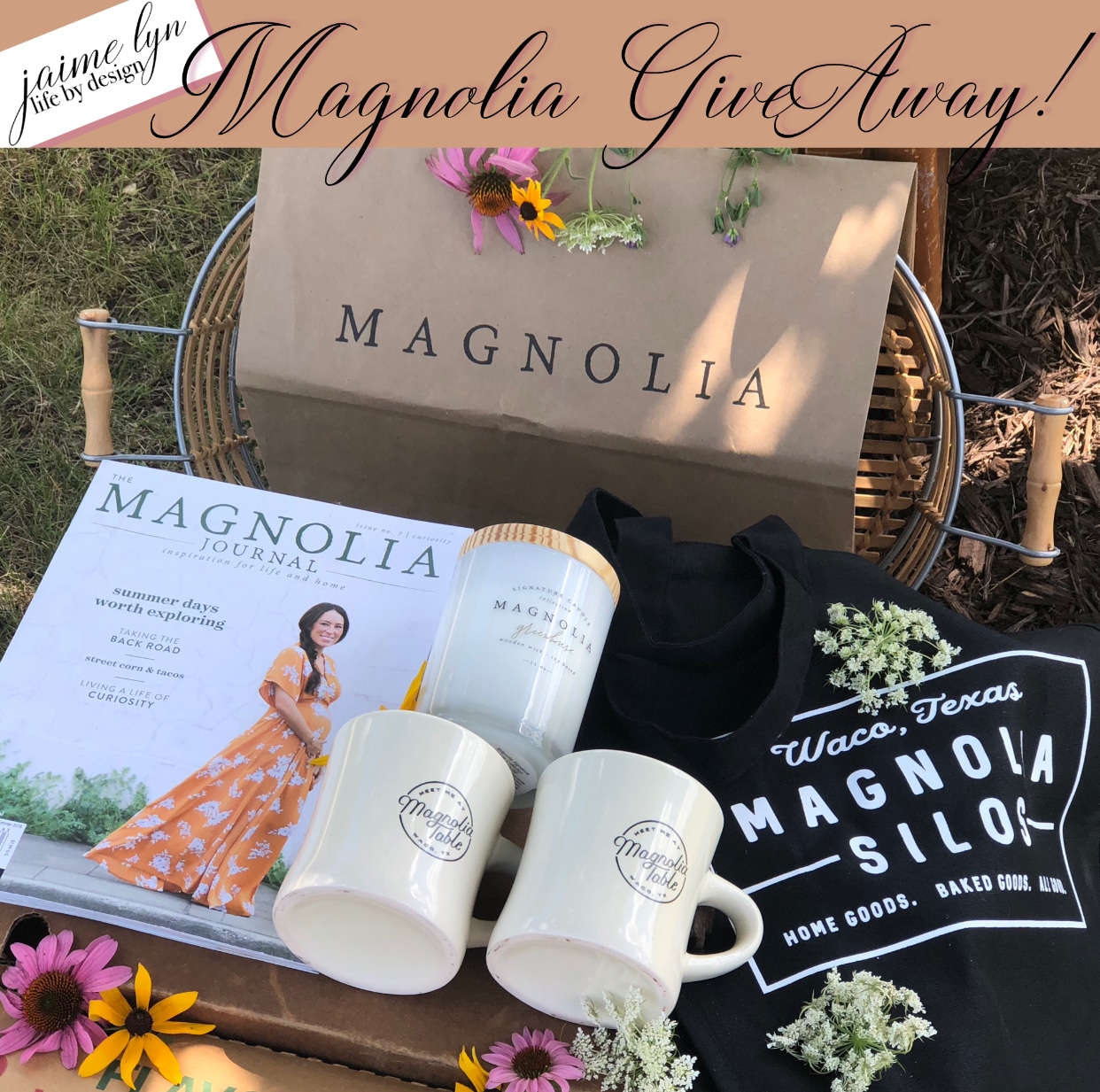 I hope you enjoyed this Magnolia Post – share away, if you did! I look forward to sharing much more interior design, lifestyle, and travel inspiration with you here at Jaime Lyn Life by Design! Lots more to come! Thank you so much for reading! & to SHOP more FarmHouse styles I love, Click here!
Have a beautiful weekend, friends! ~ Jaime Lyn