Think Spring – Shop my Amazon!
After all of the crazy winter weather our country has been experiencing from Texas to all corners of the US, I think it's safe to say we are ALL ready for the Spring season! It is this time of year in Michigan when the days seem to be getting a little longer, and the sun is trying so hard to peek out, that I really begin craving Spring… to see the snow begin to melt away, the trees start to bud, and the tulips unearth into to their full glory… Spring will be here before we know it, I can just feel it! In that spirit, I am sharing some pretty Spring items in my Jaime Lyn Amazon Shop today… everything from Spring and Easter home decor, to Spring inspired fashion and accessories, to gardening tools, to other fabulous pretty pastel pieces… all for you to enjoy in this next season. Shop ALL of these items and more at my Amazon Shop, under "Think Spring"…I'm always adding to my shop, so make sure you follow me there on Amazon, so you can always see the latest products I've prepared for you to browse and shop…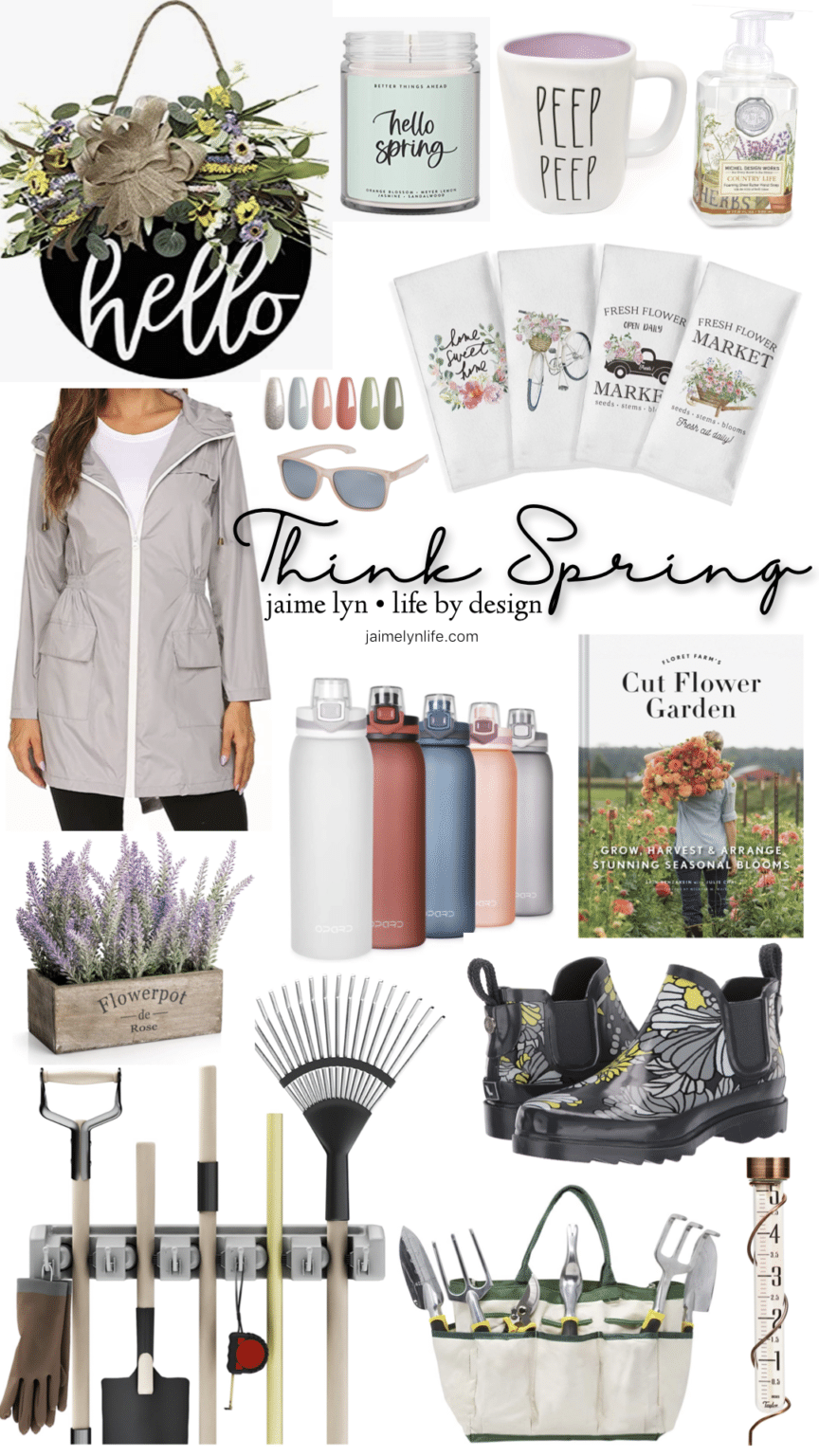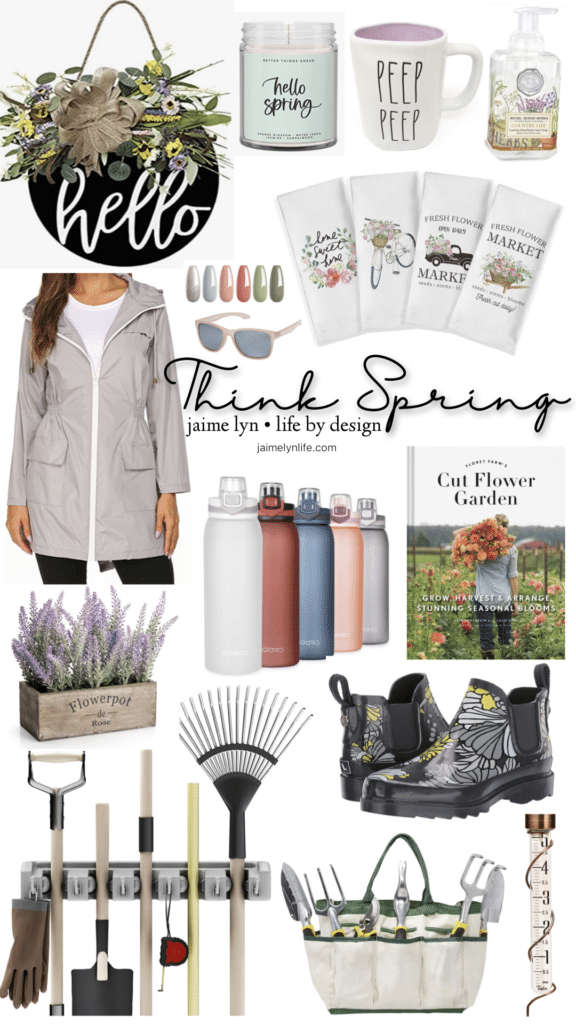 To easily Shop each item above individually, use the links below…
Hello Sign | Hello Spring Candle | Peep Peep Mug | Hand Wash | Rain Coat | Gel Nails | Sunglasses | Market Tea Towels | Lavender Flowers |Rain Boots | Water Bottles | Cut Flower Garden Book | Yard Tools Organizer | Garden Tools Kit | Rain Gauge
I hope you found some pretty Spring pieces to help your spirit 'spring' into the new season! Make sure you are signed up for my Email list here on my website, so you always see my new posts!
And before you go… did you see my last post about my stay at the Magnolia House in Waco, Texas?!… if not, you can read it here.
Also, have you followed me on Instagram?… I share more daily inspiration from my own home, life & style there.. I'd love for you to follow me!
Have a blessed week, friends!
Blessings,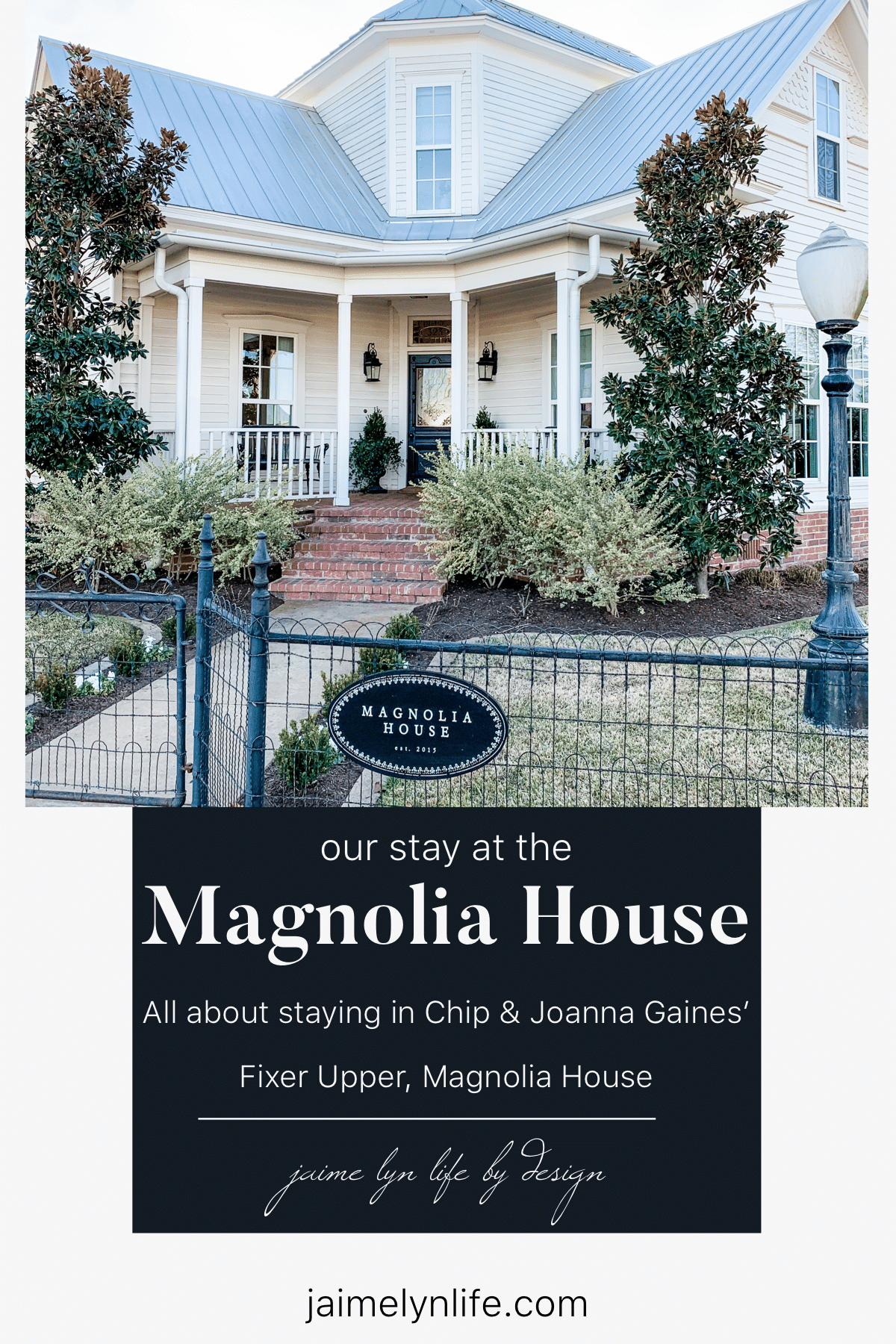 Hi all, I hope everyone is staying well and healthy!  I am back home to cold and blustery Michigan from my quick trip to Magnolia in Waco, Texas this last week.  My husband and I went out because I happened to come across availability at The Magnolia House in McGregor, TX… one of Chip & […] Read more…
0 comments