When I started my Blog, I wanted to make sure I shared some great places to shop for home decor with you guys, and today I'm so excited to share about a lovely shop in Hudsonville MI, near Grand Rapids called The Found Cottage. Today they celebrated their 3rd Birthday of being open so I think it's only fitting I posted about them today! I've followed this shop on Instagram for quite some time and for months had really wanted to take a day to visit, so a couple weeks ago I finally had that chance to make the hour and a half drive from where I live in Central Michigan to see this beautiful shop for myself.. and it was so worth it!
If you are unfamiliar with The Found Cottage, it is owned by three amazing creatives, Abigail Hoppen Albers, Lisa Noe VanDyke, & Liz Marie Galvan (give them each a follow on IG ) and is filled to the brim with the most unique home decor and gift pieces; a combination of cozy cottage, farmhouse and a bit of modern mixed in, creating the most perfect ensemble of decor for a style that I think will never go out of style. Their philosophy is to create "a collaboration of treasured and gathered items, vintage and new, merchandised together to create one eclectic cohesive boutique"….I LOVE (like, love, love, love) shopping boutiques and stores like this….small businesses, owned by creatives, filling their stores with such care and creativity!
At The Found Cottage, you will find antiques, vintage, handmade, unique finds, clothing, gifts, bath & body, greeting cards, candles, jewelry, and much more. The three owners fill the space with carefully curated items of their own finds , and also have other vendors showcase their unique products as well. They are open Monday – Wednesday 10-6, Thursdays 10-8, Fridays 10-6, Saturdays 10-5, and closed Sundays and located at 2460 Chicago Drive, Suite B in Hudsonville, MI.
As I've designed homes and decorated my own homes through the years, I have found that for me, it's way more rewarding when I create spaces with truly unique finds… pieces that really resonate with me and I might not find in everyone else's homes. I find joy in the experience searching for creative treasures and enjoy the look and feel it adds to my home when I've filled it with things that are a bit more organic, not mass-produced, truly unique, maybe have some age and history, or was created by talented makers or artisans…these are the pieces that I really fall in love with and want to fill my home with.
And I'm not sure about you all, but I am such a sucker for pillows, clocks, signs, antiques, and anything vintage or farmhouse…. so everything in this beautiful shop spoke to me and I could seriously have spent hours shopping the store. The building is quite large, but not too large that it didn't feel cozy and quaint. I really enjoyed all that was for sale, but also how it was staged and presented together, creating a cohesive look of mix-matched treasures in perfect unity. I literally could have taken a trailer and filled it with everything I found that I loved!…but I didn't.. but I just may next visit… 😉
My "Kai Kai Brai" daughters loved this adorable shop too…they are really growing to see the joy in surrounding yourself with things that resonate with them in their living spaces… creating only the vibes you want to surround yourself and live with on a daily basis.
…And my husband enjoyed The Found Cottage as well 😉 … helping our girls find all their little purchases they couldn't live without. Visiting this shop was a fun day for all of us!
And exciting news too!… that's not all there is to be at The Found Cottage…I was beyond excited when they announced they are expanding The Found Cottage, with The Found Cottage Mercantile…a shop that will be at the same location they are housed at now, but at the opposite end of the building, with an Antique and Vintage "booth style" shop made up of pickers from all over the country… ahhh, I can not wait to visit and see all that they have! …I'll blog about it all once I do, so stay tuned!
If you are in the Grand Rapids area, make sure you stop into The Found Cottage and give them some love! You can also SHOP their online store if you are out of state, and make sure you follow them on Facebook & Instagram for your daily dose of "found cottage" inspiration.
I hope you enjoyed a little glimpse into my visit to The Found Cottage. I'll definitely be returning very soon and can't wait to check out their new Mercantile. A BIG Happy Birthday & Thank You to them for creating such a beautiful space to shop and bring home the most amazing home decor treasures!
If you like this post, make sure you sign up for my Email list, to never miss a Post and follow me on Instagram, Facebook and Pinterest!
Other Favorite Posts from Jaime Lyn Life by Design!
My Trip To Magnolia in Waco, Tx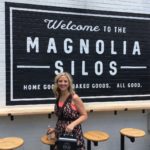 Rebel Magnolia Fall Farm & Flea Market